Galatta
|
12:00 AM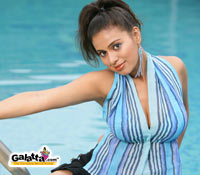 Tejashree counting on Brahmadeva
Beautiful actress Tejashree, who was introduced as a character artist in Ottran, is very keen on becoming one of the leading actresses of Tamil Nadu. And for this, she is counting on her upcoming film Brahmadeva, in which she is the heroine.
Brahmadeva is directed by Dharmalinga, who has been an assistant to director Rajeshwar. When he began writing the story of this film, Dharmalinga decided that he would cast only Tejashree in the lead role; such is the confidence he has in the actress, whom he regards highly. The film, which explores the thin line that exists between friendship and love, is almost complete and will be released soon. Dr. Raam (of Kattuveeriyan and Moondram Pournami fame) is the hero.
Brahmadeva is highly dependent on Tejashree's glamour and acting skills;�according to its director, it will help Tejashree cement her place as a heroine in Kollywood. He also feels that Tejashree's great acting skills and glamour�have not yet been presented in a suitable manner.
With this film, Tejashree, who is also an expert Kathak dancer, wishes to elevate her status from a character artist to a successful heroine of Kollywood. We wish her dreams and aspirations come true�this New Year.