By

Vivek Raj

| Galatta |

01:55 PM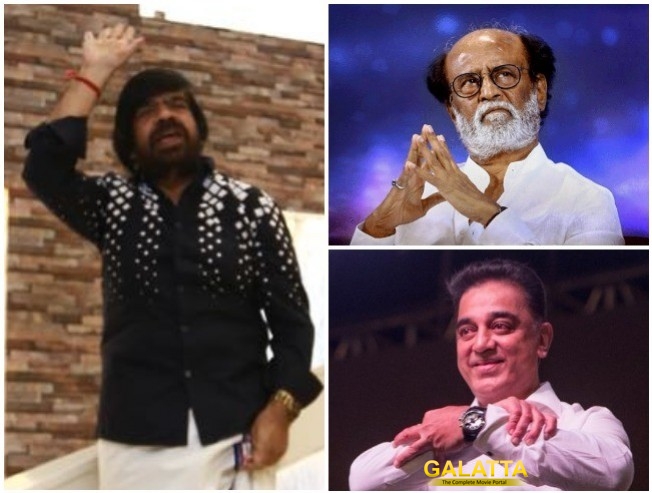 The political scenario in Tamil Nadu has seen some rapid developments in recent times; especially the past one year. First up, Kamal Haasan had announced last year he would be foraying into the political arena and unveiled his party name to be Makkal Needhi Maiam as well as its flag last week.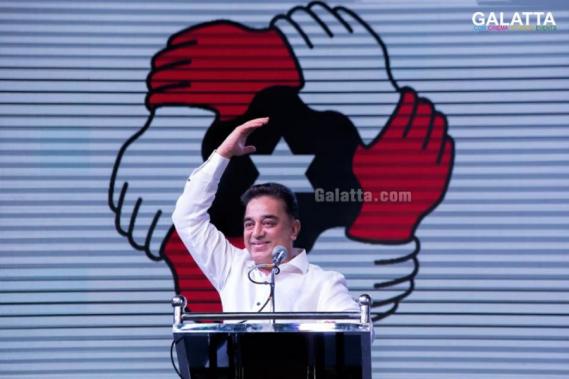 On the other hand, Rajinikanth gave a big New Year treat for his fans when he too announced he would be entering politics soon.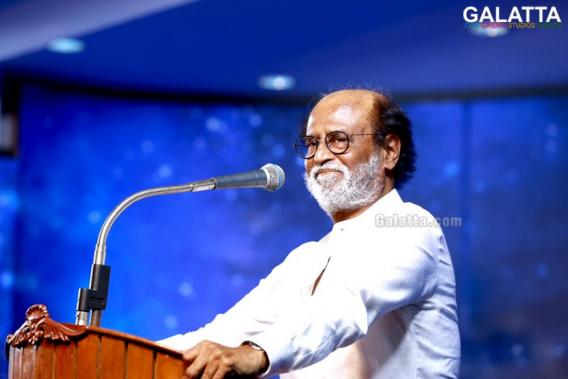 In the midst of popular celebrities coming into politics, the multi-talented T. Rajendar has now come out with a statement that he too will be venturing into politics next with his party named as the 'Latchiya Dravida Munnetra Kazhagam'. It must be noted T. Rajendar stepping into politics isn't new as he has actively participated and functioned as a politician in the past.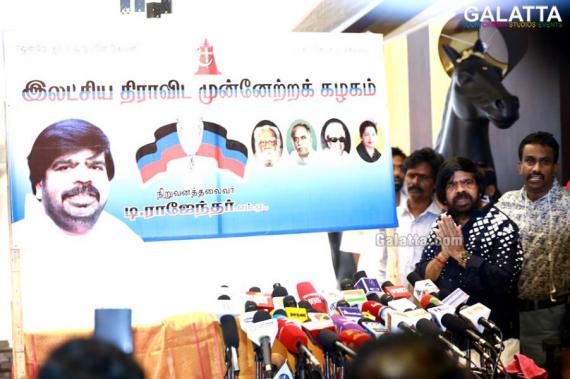 On the occasion of his entry into politics, T. Rajendar has now issued a detailed press release which is as follows:
"In the prevailing political scenario in Tamil Nadu, Puratchi Thalaivar MGR is not with us, and the person who held high his policies and stood by it, Puratchi Thalaivi Amma is also no more. The veteran DMK leader Kalaignar is also down with various age-related health issues. At this juncture, many people are meeting him, to seek his blessings to launch their own political parties. It indeed is imperative of the time. And in this situation, I would like to reminiscence some of the old chapters of my political journey so far.
It is during the political regime of Puratchi Thalaivar, which lasted close to 13 long years, that Kalaignar was unable to win the mandate of the people, stagnating into a kind of a political crisis. It is at that time, I started my political career at the age of 28, with the only intention and focus to bring, Kalaignar back to power. As the principal propaganda organ, I worked hard and spearheaded the campaign, sharing the dais with who's who of the party, for the by-elections held for the Anna Nagar, Mayiladuthurai, Thanjavur and Upplliapuram constituencies."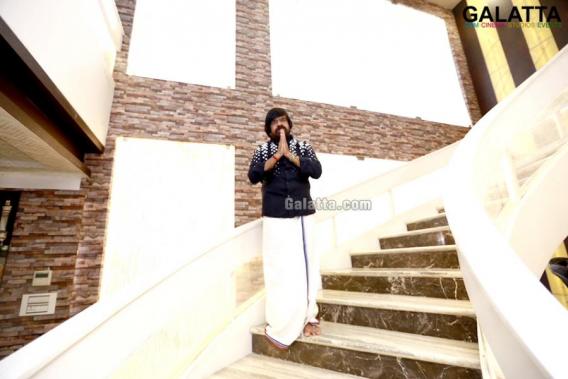 TR further stated, "In support of DMK, during the regime of Puratchi Thalaivar, I had staged a roadblock protest in Pondy Bazaar, when Kalaignar was arrested.
Even during the regime of Puratchi Thalaivi Amma, I staged a roadblock protest in front of the Central Jail, when Kalaignar was arrested.
When Vaiko started his party Marumalarchi DMK and started making inroads into the party and its voter bastions, on Kalaignar's request, I had immediately merged my party, Thayaga Marumalarchi Kazhagam with the DMK and worked for the prospects of DMK.
Since 1996, even after having worked relentlessly as the Propaganda Secretary to bring back Kalaignar as the Tamil Nadu Chief Minister, I was removed from the party, citing superficial and silly reasons such as that I had not renewed my party membership card, etc, leading to the launch of my party, The Latchiya DMK, in the year 2004.
Once again in 2006, when DMK faced a critical situation, Kalaignar called me for the support of Latchiya DMK, thanks to Vaiko. I immediately did extend my support and ensured the power rests with the DMK. Indeed, it is for that reason I was made, the Deputy Chairman of Small Savings Directorate of TN."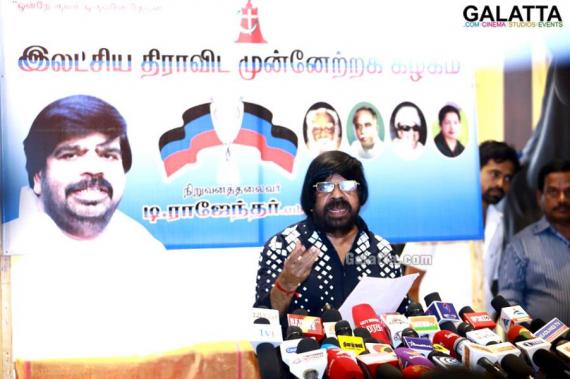 He then went on to add, "In the recent past, just before the 2014 parliamentary elections, Arcot Veerasamy dropped in at my residence and invited me to support the party at the behest of Kalaignar. The very same day Kalaignar issued a hand-written statement, the details of which are appended herewith for your easy reference.
DMK Leader Kalaignar Press Release — 27-12-2013
Dear brother T. Rajendar, who had worked hard as the Propaganda Secretary to strengthen the party then, could not continue with the party for several reasons.In this regard, I had earlier issued a statement. He also had issued an explanatory statement then. Now, with an intention to further strengthen the propaganda wing of the party, and with brother TR acknowledging my invitation, I am pleased to welcome him back to the party told I am confident that the party siblings also would welcome this decision.
In that statement, he had mentioned, 'Brother, let our relationship and friendship, live forever', signed and handed it over to me. I still value it and deem it as the biggest asset of my political career.
It is Kalaignar who called me, who wanted me to join the party, who promised me of some highly dignified post in the party, but I still wonder who deterred it? Who spoiled Kalaignar's plan? Is it my fate? Or is it someone's plot? I would blame it only on the time, I would never ever blame Kalaignar. I have no resentment against anyone, the reason being it is not mandatory for everyone to like someone. A few may like a particular person, the other few may dislike him. It is all karma.
And in Indian politics, Kalaignar is a remarkable era. I still consider it a virtue having had the opportunity, to work with him at various levels in diverse situations and geographies.
When I was about 32-33 years old, Kalaignar had expressed, 'Thambi T. Rajendar is half my age and sports half my talent quotient.' More than humbled by these words, I would always be happy to lead my life. I consider my guru Kalaignar as the modern era Thronaachariyar, He had accepted me as his disciple. As in Mahabharata, Thronaachariyar has accepted Arjuna as his disciple, but his son, Aswaththamaa did not. In line, at times, I still wonder about the Aswaththamaa of my political career. Even in this modern age, karma plays a significant role. With the grace of God, I am confident that my political ambitions will never go ruined."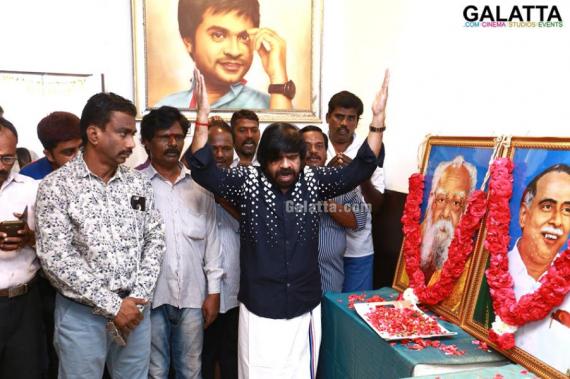 In addition, TR further stated, "It is worthy to note, that the reason being the case, that even MGR tried hard to stick to DMK, a party for which he had tailed for many years for its development. But, at one point, he was thrown out. In a way, it is synchronous to my own journey. Now I can feel and do understand the kind of pain and trauma he went through, which throws a new light to my own journey. And I sense it is time, for me to tread a new way, a unique one.
I depend on the four significant souls, who sure will guide me in every step that I take -Thanthai Periyar, Arignar Anna, MGR, and Amma, that I have adorned them in my letterhead with three of them being the former chief ministers of the state.
In my view, the present DMK is the Executive Leader Stalin's DMK. It is their problem, it is his virtue, being the biological son of the DMK founder. But, I am indeed, the adopted son of the DMK founder. In a way, I had been used and thrown out like a curry leaf in the larger scheme of things. It is fine."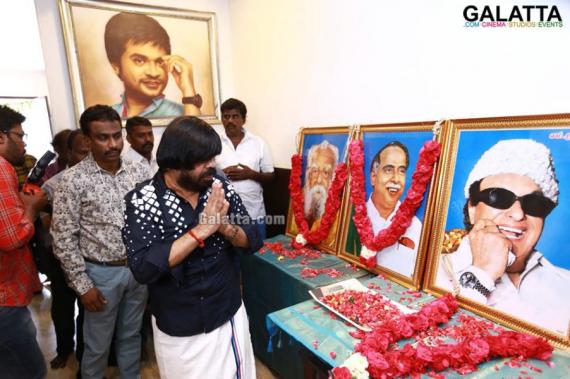 T. Rajendar then went on to conclude saying, "Thanthai Periyar, Perarignar Anna, Puratchi Thalaivar, and Puratchi Thalaivi Amma do not have their biological children. And I would remain their adopted son for their good policies and to take their legacies forward.
Yours faithfully,
T. Rajendar"
We will now have to see how this latest move by T. Rajendar will have an effect in the various political developments of the state.