Galatta
|
12:00 AM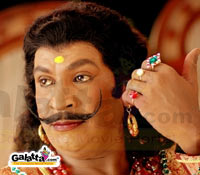 Simbudevan's penchant for comedies
Director Simbudevan made a remarkable debut with the super hit film Imsai Arasan 23aam Pulikesi. He brought back the long-forgotten comic hero-based subject to Tamil screens with this film. There had been movies like Kadhanayagan – starring S.Ve Sekar and Pandiarajan – which earned a lot of accolades in the 80s. Then, we had a total famine of such movies. Simbudevan put an end to this with Imsai Arasan...
Then, he followed it by Arai En 305-il Kadavul, which did not do as well as Imsai Arasan... But this has not daunted Simbu from making one more comic film. He recently declared that his next film will also be a comedy subject, and that he is not worried about the slump in response to Arai En 305-il Kadavul. He is sure to make the third one a grand success.
It is to be noted that Simbudevan used to be a famous cartoonist in leading Tamil magazines and has also worked as Shankar's assistant director.
Click here to view stills from Imsai Arasan 23aam Pulikesi.
TAGS :
Related News