Galatta
|
12:00 AM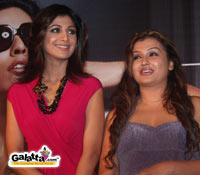 Shilpa Shetty inaugurates Sona's Uniq fashion store
Shilpa Shetty who rose to fame in the early nineties had a revival of fortunes due to her appearance in the U.K. reality show, 'Big Brother'. Thereafter, Shilpa has been very selective in her appearances on screen, not succumbing to the lure of money. So when Shilpa Shetty came to inaugurate Sona's Uniq fashion store, Chennaiites were abuzz with excitement.
The item girl who raised men's pulses in Mirugam, Pathu pathu, Sivapathigaram and Kuselan, Sona is venturing into the nascent fashion industry in Chennai by opening a boutique called Uniq. The inauguration event was held at the Taj Connemara and Shilpa said during the inaugural speech that it was her friendship with Sona that brought her to Chennai.
Uniq, as the name suggests, will truly be one-of-its-kind. Sona plans to showcase fashion accessories like� designer jewellery, belts, bracelets, shoes and watches from Singapore and the European Union as well some unique pieces that have been designed by local talent. Sona reveals that these delectable fashion accessories will be priced between Rs. 1000 and Rs. 1,00,000.
Declaring that she wants to change the fashion hub of India from Mumbai to Chennai, Sona says that Uniq is a step in that ambitious direction. True to the name, the store will not carry more than one or two pieces of a particular design or fashion accessory to maintain the exclusivity and uniqueness.
Uniq, the lifestyle fashion store is located opposite the SIET college on Mount Road, Chennai.