Galatta
|
12:00 AM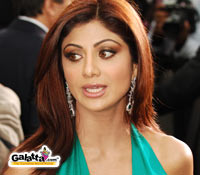 Shilpa-Raj Kundra�engaged
Shilpa Shetty, a leading Bollywood actresses, has�a considerable presence in South Indian films too! She has acted in many South Indian movies, including Mr. Romeo (Tamil and Telugu), Kushi (Tamil - Item number), Sahasa Veerudu Sagara Kanya, Veedeva Dandi Babu, Azad, Bhalevadivi Basu (Telugu), Maduve Agona Baa, Preethsod Thappa, Ondagona Baa and Auto Shankar (Kannada).
As we know,�this pretty actress�announced that her engagement to NRI business magnate Raj Kundra would take place on Saturday evening at Raj's Juhu residence, and the event took place in a grand manneer on schedule.
Shilpa, looking splendid in a Manish Malhotra sari, arrived at 8.15 p.m. She requested photographers and other mediapersons to move aside so that she could enter Raj's house. The couple posed for pictures around midnight, once the ceremony was over.
Fashion designer Tarun Tahiliani said that he would design outfits for his close friend Shilpa Shetty's�trousseau. Asked about the number of outfits he will be designing for Shilpa, Tahiliani said: "I'll design everything!"
TAGS :