Galatta
|
02:00 PM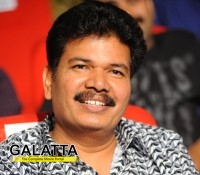 Director Shankar's assistant Karthik's debut directorial is Kappal starring Vaibhav Reddy and newcomer Sonam Bajwa. Shankar hinted that the film is a laughter riot and he enjoyed the film thoroughly. He also assured that the audience would love it.
On seeing Kappal, we hear that actor Shankar was mighty impressed with the performance of Sonam Bajwa in the film. Being a top model, Sonam was able to pull off the screen test with ease which bagged her a place in the cast of Kappal.
Sonam hopes that this film would be a perfect platform to exhibit her acting skills and other talents. The film is expected to hit the screens soon.