By

K.V. Vasudevan

| Galatta |

12:00 AM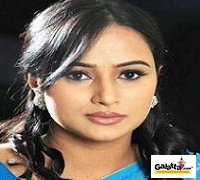 See more of Anupama in Ishqiya
Adding10 kg to her frame for a Hindi movie was no big deal for Anupama Kumar, who made a lasting impression as Cheran's wife in Pokkisham. She has a lot to say of her character in the forthcoming Hindi movie Ishqiya directed by Vishal Bharadwaj.
To enact the role of an overeating Punjabi girl, Anupama said she agreed when Vishal felt she was too thin. So what did Anupama do? Feasting on chocolates was mandatory before hitting the bed every night. "I love chocolates and there was nothing to complain about," says Anupama, who is open to all roles, and has developed some healthy rolls around her middle.
Anupama had no hesitation playing the mother's role in Pokkisham knowing how important it is to feature in a Cheran film. "In fact, I asked for it," said Anupama in a jocular vein, recalling when she had to persuade an initially reluctant Cheran to give her the role.
Of  Ishqiya, Anupama said it is a big opportunity for her to share screen space with the seasoned Naseeruddin Shah, Arshad Warsi and Vidya Balan.