By

Prasanna Singh

| Galatta |

12:00 AM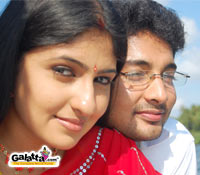 Santhru's transformation
From manager of actors to an actor – that is the journey undertaken by Santhru. Earlier,  directors and producers got to see Santhru's managerial and marketing skills. Now we all get to see the actor in him. Santhru, of Silandhi fame, used to be the manager of  actress Monica who is playing the lead in the movie. From there, he went on to become an actor.
Recently, the actor spoke his heart when Galatta caught up with him. Santhru said he is a perfectionist and always wanted to excel in whatever he does. He is one whose mind is always thinking about the next step towards growth and perfection. Acting was there in some corner of his mind due to his close association with Kollywood, but he did not initially develop that idea. One day, that idea germinated and grew, when director Aadhi called on Monica and him to discuss his ideas about Silandhi. He liked the movie's script very much. His managerial skills told him that Monica should be a part of it. At the same time, the idea of foraying into movies as an actor took over and he ended up saying, "Why, am I not a new face?" when director Aadhi explained that he was looking for a fresh face for the villain in this movie. Aadhi liked the spontaneity and agreed that Santhru fit the picture of the villain that he had visualized.
From there on, it was a change of track; now, Santhru is paying all attention to his acting skills. The perfectionist in him was displayed by his high-class acting in Silandhi. He put in real hard work, worked on his physique and shed 7 kg. through a strict exercise regimen and also did a lot of homework for this pivotal role. And now, he is working real hard for the roles that he has earned after his appearance in Silandhi. Pretty soon, we will also see him as a hero. Given the perfectionist that he is, we can place high expectations on him.
Since the time he became a manager for actors, he has brought two new faces to Kollywood – Aparna and Udaythara. Then he brought actress Monica to the fore through Silandhi.
It looks like we have a new promising hero in the making!
Click here to view stills from Silandhi.