Galatta
|
12:00 AM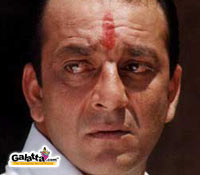 Sanjay Dutt in Arasangam remake
Earlier, we had reported that Arasangam (which starred Vijaykanth and Sheryl Pinto in the lead) will soon be remade in Hindi. Now, it is said that shooting for this remake will start in the beginning of 2009 with Bollywood superstar Sanjay Dutt reprising Vijakanth's role. Arasangam did quite good business throughout Tamil Nadu. Bollywood veteran Sanjay Dutt, who became famous for his work in Munnabhai MBBS and Lage Raho Munna Bhai, has also decided to produce this project.
Director Madhesh said that he is quite happy to do a film for an esteemed actor like Sanjay Dutt and feels more responsible as he is working for his budding production company. Though this is his first Bollywood film and he has a big task of adding value to Sanjay Dutt's production company, he says that he does not feel any pressure or stress, but is fully charged up to do justice to the faith the actor has in him.
The director also said that he is involved in the brainstorming sessions of a Tamil action film, which he will direct soon. He said he will come out with the details shortly.
Check out the links below:
TAGS :