Galatta
|
12:00 AM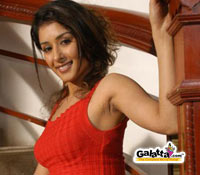 Samiksha's penchant for comedy
Kavignar Vaali is not the only one�grateful to Abhirami Ramanathan for the opportunity to realize a longstanding desire (of writing a song for kids); there is also one more actor who feels the same way – Samiksha.
Though she is happy�in glamorous roles, Samiksha has felt that she is overdoing it and was afraid that with a glamour tag attached to her image, she would never be able to realize her desire of acting in a full-length comedy film. But Abhirami Ramanathan changed it all overnight. Understanding her potential and penchant for comedy, he offered her a light role (with a tinge of glamour) in his hilarious Panchamirtham. Samiksha, whose happiness knew no bounds when she was offered the role, grabbed the opportunity eagerly and worked assiduously to give a brilliant performance.
The comedy scenes involving Jayaram and Samiksha will reportedly prove to be the highlight of this film. The film's crew is said to have had lots of fun while shooting these scenes.
So very soon, we will get to see beautiful Samiksha in a new light.