RJ Rofina creates a record!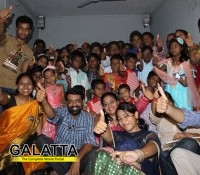 By

MKV

[

October 14, 2013

]
Radio Jockey Rofina Subash, who works for an online global 24x7 radio, recently set a world record for 50 hours of Non Stop Live RJ Marathon. She started this feat on 9.10.2013 at 9.10 am and finished it at 11.10 am on 11.10.2013. This record was in support and awareness of HIV infected Kids and Cancer Affected Kids. Adjudicated and certified by the India Book of Records, Tamil Nadu Book of Records and Assist World Records, Ms. Rofina now holds the record of being the first woman in the world with the 'Longest Radio Jockeying Marathon Record'.
It is said that Ms. Rofina was vigorously trained for this feat by the founder of the web radio, Mrs. Mohana Opesh. Of the guests in the marathon show, there were many prominent people like Mr. S. Ve. Shekher, director Cheran, music directors Ravipriyan and Praveen Mirra, Fathima Babu, and many social activists also.
This is an amazing record by Ms. Rofina and Galatta Media congratulates her on achieving it!
TAGS: S Ve Shekhar , Cheran