Galatta
|
12:00 AM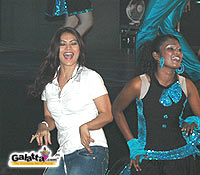 Ragasiya rocks John Britto's dance show
John Britto's Annual Show Climax came to a thundering close on Saturday. Among the several prominent guests were celebrities Ragasiya, Jiiva, Vineeth and a host of TV stars and dancers from the popular dance show Jodi No.1.
The show was full of energy and enthusiasm. Ragasiya, being a huge lover of dance and a great dancer herself, danced along with John Britto's team in an impromptu finale, such was the synergy in the show. The Kamaraj Hall was jampacked and the crowds cheered and danced for every number.
Click here for the event stills.
Next year, John Britto's Climax 2009 will be held on August 29th. And looking a the respose of the show this year, we all can look forward to a much bigger show next year. Galatta congratulates John Britto on translating his dream into reality and making dancing a hot career option for many youngsters of Chennai.
Check out Ragasiya's Photo Gallery