Pregnant producer hassled by heroine?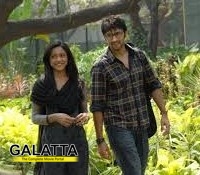 By

MKV

[

October 26, 2013

]
The buzz doing the rounds is that Shanmugapriya, the producer of the upcoming movie Uyirmozhi, has been subject to a lot of hassles. The person in question seems to be the heroine of her movie - Keerthi. It looks like what started as a happy relationship, became sour midway through the movie's shoot. It looks like Keerthi started demanding her full remuneration before continuing to act in the movie. Shanmugapriya conceived during this period, and it looks like Keerthi just continued hassling the producer for money without even considering her physical state. The heroine also seems to be refusing to be present for the movie's promotions, and the producer is apprehensive if she will be present during the movie's release. A little birdie states that the producer is planning to file a complaint at the producer's council regarding this. Uyirmozhi is directed by debutant Raja, and the movie's story revolves around the five different characters of human beings.
Stay tuned for more updates.
TAGS: Keerthi Uyirr Mozhi,