Ponge Ezhu Manohara - The background story!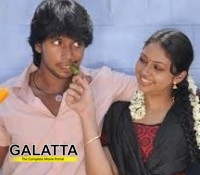 By

MKV

| Galatta |

July 12, 2014 20:47 PM IST
All Tamil cinema fans would be sure to remember the dialogue "Pongi Ezhu Manohara" from the movie Manohara, which starred the legend Sivaji Ganesan. Now, a debutant director has titled his movie with this dialogue, but changed the spelling of Pongi, to suit the producer's numerological affinity to Ponge Ezhu Manohara. Ramesh Rangasamy, who has earlier worked with director and producer SA Chandrasekar in three of his projects, has written and directed this movie. Starring Irfan, Singampuli, Archana, Arundhati Nair and Sampath Ram in important roles, this movie has music by Tamizh Padam fame Kannan and cinematography by CJ Rajkumar.
The movie is set in the 1990's and Irfan and Singampuli play the roles of milk-men. All of a sudden, Irfan loses all those dear to him due to a mistake of his and almost becomes an orphan. This is when he comes to know of a secret that takes him on a new journey in life. Of the two lead ladies, one appears as a student, and the other as a mill labourer. The shooting has taken place in locations around Sathyamangalam and went on for about 65 days. The director adds that he has refurbished an old, defunct scooter of his father's and used it in the movie. He also says that Irfan's popularity as Saravanan through the TV serial helped him connect with the village folk a lot.
TAGS: Irfan