Music video Joli Bee released!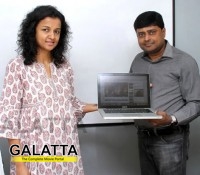 By

[

July 24, 2015

]
The wait has finally come to an end! The most awaited release of little Sana Manoj's music video Joli Bee took place today. The charming director Kiruthiga Udhayanidhi launched the video on Youtube. Kiruthiga, who rose to fame with her directorial debut Vanakkam Chennai, is the wife of actor producer Udhayanidhi and also the proprietor and editor in chief of a Chennai Based monthly lifestyle magazine, called inbox 1305. Choreographer Gayathri Raghuram, who is also the aunt of little Sana Manoj, made her gracious presence for the launch of her niece's music video, which took place at Galatta earlier today.

Joli Bee is the first music video of ten year old Sana Manoj, the grand daughter of dance choreographer late Raghuram master. By this independent English music album produced by Raa Poductions, Sana has become the first Indian girl to make a debut in an international music video. Her charming moves and the mesmerizing video rich in visual effects is a treat to the audience. Tune into Galatta's Youtube channel to watch this music video.
TAGS: ,Udhayanidhi Stalin ,Gayathri Raghuram