By

Prasanna Singh

| Galatta |

12:00 AM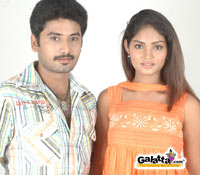 Murali Krishna on Balam
With Balam nearing completion, director Murali Krishna has revealed its story. He prefers to call Balam "a villainous film sans villain". It is about a young man who survives on his wits! The film's story is simple: The hero falls in love with a police officer's sister and the rest of the story is about their standoff. But the screenplay is new and is very captivating! The police officer makes several attempts to arrest the hero, but in each attempt he is outwitted by the hero! As Murali Krishna puts it, his hero survives any kind of hazard because he is witty – the real strength lies in brain, not in brawn! The entire screenplay has been built around this idea and it has come out very well, making the film witty and lively and thrilling.
Murali says that Balam has no villains but the "situations become villain". "I refer to Balam as 'a villainous film sans villains'. The screenplay is the strength of this film plus the performances from beautiful Mumbai model Deepa Chari and VJ-turned-actor Aravind Vinodh," says the director.
Following this film, he will direct Vaddi, the star cast of which has not been fixed as yet.
Check out the links below: