Galatta
|
06:00 PM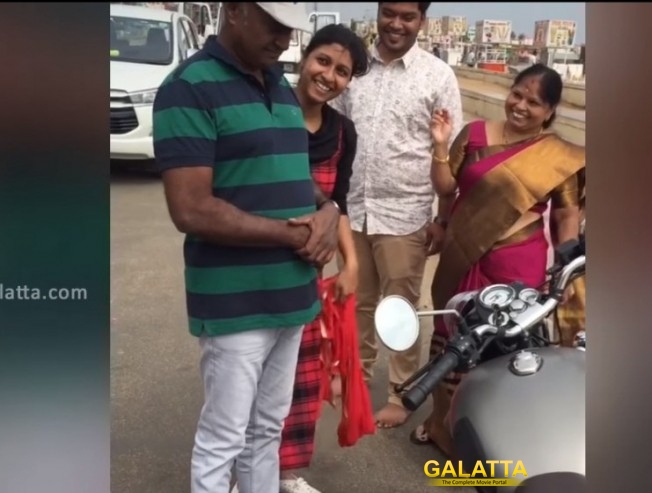 Dad is the First hero for Kids, especially for a Daughter. MS Bhaskar or Muthupandi Sundaram Bhaskar is one of the best Character artits in Tamil Film Industry who has worked in a variety of roles. He is predominantly a Comedy actor but has also well etched many character based roles.
MS Bhaskar is basically a Theatre Actor who worked in Television Serials before entering Movies. He also worked as a LIC agent and then in a Paste Company before stabilizing his career as an actor. There are many films to his credit like Santhosh Subramaniam, Pirivom Santhipom, Uttama Villain, Mozhi and the list goes on. Aishwarya Bhaskar, MS Bhaskar's daughter has gifted him a Royal Enfield Bullet as it was his childhood dream.
It turned to be a beautiful New Year Gift and Surprise for the proud father who has given many surprises to his daughter. Aishwarya Bhaskar has gifted this bike to her father on her hard earned money and MS Bhaskar shares in this Exclusive Interview with Galatta that right now he is busy roaming around Chennai in this bullet gifted by his daughter.
In this interview, we also get to see MS Bhaskar's candid views on society, his anger as a responsible citizen and why he does not support New Year Celebrations. He also shares his opinion on Ulaga Nayagan Kamal Haasan's Political Entry.
Check out the Surprise video here and click here for the Exclusive Interview.
TAGS :