Galatta
|
04:15 PM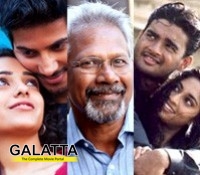 Few more hours for Ok Kanmani, to watch Adhi and Thara fall in love as directed by one of the most brilliant film makers in the country, Maniratnam. 15 years ago, Alaipayuthey happened and the waves it created has still not subsided. Now, we have Ok Kanmani which is touted to be a sequel to Alaipayuthey but with a difference. Many frames and shots do resemble the earlier movie but with Maniratnam, we can be rest assured that there will be a freshness added.
Vairamuthu says the story was narrated in 3 minutes and this will be an experiment of the future cultural shock. AR Rahman says this is a youthful movie and they worked on retaining that in the music too. With the evergreen chemistry between AR Rahman, Vairamuthu and the King of Romance Maniratnam, the album is a huge hit. Dulquer says Adhi is a loud and outgoing guy in contrast to his actual self and Nithya Menen is playing a carnatic singer and she is a singer in real life too.
A new word has been coined for this album - Sinamika which AR Rahman says it means 'Sinam konda pen' or an angry woman. He worked to add a drum sound to this song which took him almost 5 days. So, that is how much effort the team has put in to bring the best on screen. There is one more legend in the making, the man of the stunning visuals - PC Sreeram, another best technician the country has.
Alaipayuthey was Madhavan's debut movie and even now girls go crazy with his character Karthik. For Shalini too, Alaipayuthey is one of the best in her career. Shakti is still fresh in our memories and will be. Adhi and Thara remind us of Karthik and Shakti in lot of places. The magic team has worked their magic on Adhi and Thara who are said to have clear views on what they want.
Ok Kanmani, says Maniratnam is a love story of today, a view of today's generation. The audience will be clearly able to differentiate between Divya and Chandrakumar of Mouna Ragam, Karthik and Shakti of Alaipayuthey and Adhi and Thara of Ok Kanmani.
So, all that we have got to do is watch the movie in theatres with no prejudice so that we can enjoy the movie completely!
Related News