By

Shailesh K Seran

| Galatta |

12:00 AM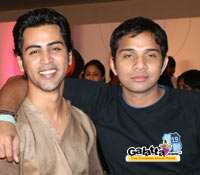 Meera Isaiaruvi Tamil Music Awards 09
The second edition of Meera Isaiaruvi Tamil Music Awards 09 organised by Social Media, a subsidiary of internet technologies major Northgate Technologies was launched with much fanfare. This award ceremony is the first of its kind that is exclusively dedicated to Tamil music. With theme of 'Celebrating Excellence in Music' the awards pay tribute to the most popular songs and albums of the year 2008-09 in all avenues of music including Tamil cinema, Carnatic and Folk music.
The awards are innovative and strive to recognize talent right from the legends to the rising stars in all fields of Tamil music. Apart from straight jacketed awards recognizing the acheivements of the best composer, singer, debutante and lyricist this awards function goes a step further and has introduced categories for the best choreography, direction, conceptualisation, picturisation and performance of songs along with more fun categories for the craziest song of the year to the best remixed songs. Even the actors and actresses are not left out of the awards giving them due credence through the Best Performance in a song sequence category.
Keep checking out Galatta for more updates on Meera Isaiaruvi Tamil Music Awards 09!