By

Prasanna Singh

| Galatta |

12:00 AM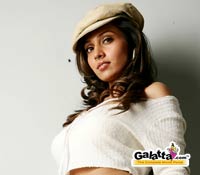 Mayuri alias Flora is innocent
Mayuri alias Flora, who was alleged by US Consulate authorities of aiding illegal immigration and therefore banned by Nadigar Sangam from acting in Tamil films, is on her way to be exonerated from this case. Her passport, which was confiscated by the Immigration authorities, has been returned to her and this is considered as a major step towards her exoneration.
In March 2008, Flora and her aide Sri Latha and Venkat Reddy, who is a cultural programme organiser, were detained by the Immigration authorities at US Consulate when they applied for their American visas. The authorities found some discrepancy in Sri Latha's documents and they alleged that Flora was trying to aid Sri Latha in illegal immigration. They confiscated their passports and ordered an investigation. The investigation revealed that Flora is innocent and returned her passport. It will not be long before she will be exonerated by the Consulate as the case is fizzling out.
Meanwhile, Nadigar Sangam reconsidered their decision and lifted the ban on her after following these proceedings. Following this, Flora just acted in Kuselan and is acting in Dindigul Sarathi; she has signed two more untitled films in Tamil and a Telugu film as well.
These incidents are enough to prove Mayuri alias Flora's innocence. The emotional turmoil for Flora has ended now. And her fans will get to see a happy Flora on screen pretty soon.
Check the links below:
The approval letter from Nadigar Sangam