Galatta
|
12:00 AM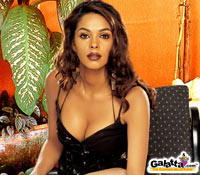 Mallika Kamini to be released soon
The sizzling Bollywood film Bachke Rehna Re Baba, which starred glamour girl Mallika Sherawat, has been remade in Tamil as Mallika Kamini and will be released in theatres pretty soon (tentatively on July 18, 2008). It is needless to say that this film will be full of glamour as it stars Mallika Sherawat, a name that has become synonymous with glamour.
The film was produced by Boney Kapoor. (Trivia: Boney is a famous producer in Bollywood, brother of actor Anil Kapoor and husband of southern spice Sridevi.) In the dubbed version, Mallika Kamini is a venture of Mani Enterprises.
Mallika Sherawat became quite famous in Tamil Nadu after she starred in Dasavathaaram (also spelt as Dasavatharam). Though she had very few scenes in the film, it was more than enough for the glamorous puss to steal the hearts of the Tamils. Also, she garnered quite a lot of attention for the sexy dress she wore to the Dasavatharam audio release function, the way she clung to Jackie Chan; when she cooed a few words in Tamil at the function, she swept everyone off their feet.
The film also stars Rekha (queen of Bollywood in the late 70s and 80s and daughter of Gemini Ganesan), who has matched Mallika in terms of the glamour quotient in the film. She has proved that she is a phenomenon that she is indeed timeless.
The film is about two sexy con women, who, with the help of their beauty and sex appeal, swindle unsuspecting wealthy men. Mallika Kamini will be a treat to many of the Mallika Sherawat fans in Tamil Nadu.
Click on the links below:
Mallika Sherawat's photo gallery