By

Prasanna Singh

| Galatta |

12:00 AM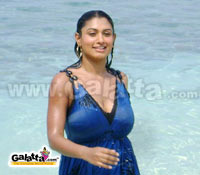 Malavika walks out of Karthigai
Actress Malavika, who took a break from the Karthigai owing to her pregnancy but decided to return and finish the job at the request of the producers, has walked out of it, citing harassment from the producer as the reason.
She alleged that producer Anjaneya had demanded arduous scenes from Malavika in a song sequence despite knowing that she was pregnant. She objected to certain scenes which were way too much for a pregnant woman to handle, but was being forced by the producer to enact them.
Therefore she complained immediately to the President of Actors' Council, Mr. Sarathkumar, and left the sets upon his advice. She later decided that she will not work in this film any more. All this has disturbed her very much, especially after being so much committed; she had walked away from Indra Vizha before its filming began and refused a song in Kuruvi once she knew she was pregnant, but decided to complete Karthigai as she only had a little work in it to complete and the filmmakers were under pressure to complete the film by next month.
Now, producer Anjaneya has sued Malavika for walking out abruptly. He demands Rs. 75 lakhs from the actress. He stated that he had spent that amount for shifting the sets from Kodaikanal to Hyderabad at her request.
Director Veera, who defended the actress while speaking to Sarathkumar on phone, said that the language barrier between Anjaneya and Malavika has resulted in all these ugly events.