By

Prasanna Singh

| Galatta |

12:00 AM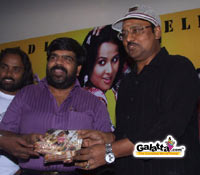 Karthigai audio launch
The audio of Karthigai (also referred to as Kartheegai)�was launched today by two great artists of Kollywood – K. Bhagyaraj and T. Rajendar. The film crew, including hero Vikramadithya (of Whistle fame), producer Anjaneyalu and director Veera, was present at the event.
Vikramadithya has three beautiful ladies for company in this film – Nisha Kothari (of Jay Jay fame), Samiksha and Malavika. Though Malavika walked out of the project, her scenes�have not been deleted; instead, the screenplay has been modified slightly. The supporting cast of this film includes Suman, Mahadevan, Srihari, Kadhal Thandapani, Kavitha, Sathya, Pandu and Rekha.
Multitalented Veera takes care of the story, screenplay, music and direction! Anjaneyalu, a renowned producer of Andhra Pradesh, produces this movie.
When Bhagyaraj spoke at the function, he remarked that producer Anjaneyalu is a very hard worker and a good man, and wished him and his crew success.��T. Rajendar�revealed that Anjaneyalu is his very good friend, and that is the reason he attended the function, even postponing the audition for the heroine of his forthcoming Oru Thalai Kadhal. He recalled how Anjaneyalu helped him when he released his son Simbu's Kadhal Azhivadhillai in Telugu. Pointing out that this is the age of commercial movies and Anjaneyalu is an expert at making them, Rajendar expressed confidence that Karthigai will become a super hit.
Both T. Rajendar and K. Bhagyaraj expressed their happiness that they got a chance to meet each other after a very long time.