By

Vijayalakshmi Sridhar

| Galatta |

12:00 AM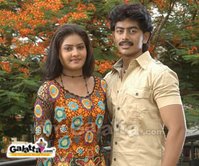 Innoruvan Adithya:�Hero in the making!
Cinema and its trademark gloss and glamour attracts a vast majority. Though most amongst us stop with imagining ourselves as heroes or heroines, some�are prepared and dedicated to take the big step of getting into the industry and making�a mark in its vast landscape.�It is indeed a challenging task, for, a career in cinema has a lot of ups and downs; each step�is extremely trial-ridden and dicey and the experience is a�lesson�in �itself. Though there is a definite place for true talent and hardwork in the field, sadly, few among the very few who opt for a career in showbiz are able to prove their true worth and succeed.
For Adithya, hero of the recently released Innoruvan, the journey has been immensely enjoyable. Adithya doesn't have any family connections in the industry. His father is a restaurateur and his big bro is a masters student.�But luckily, for Adithya, opportunities have come knocking at his doors. His first offer came from director Shankar for his Boys.�Adithya could not take up the offer but getting dazzled by the proposition, he trained in allied fields of acting. Innoruvan has happened after a while. With the experience under his belt, Adithya, the� charming, dedicated hero is�all set to tread ahead, with�adequate grit and determination.
All the Best Adithya!