In conversation with actor Kitty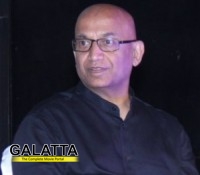 By

| Galatta |

June 22, 2015 21:32 PM IST
Actor Raja Krishnamoorthy popularly known as Kitty is a very familiar face in the Tamil Cinema industry. Kitty is popular as a director, producer, screenwriter, actor and what not. His impressive performances in Kamal Haasan's Nayagan, Rajinikanth' s Baasha and Mani Ratnam's Bombay still remain in the hearts of the audiences. Apart from acting, he is a director in HRD and had also authored a book called Rajini Punchtantra. The veteran actor who made his acting debut in Mani Ratnam's Nayagan did not have time to look back, ever since. Now, he is all excited about the release of Yagavarayinum Naa Kaakka starring Aadhi and Nikki Galrani in the lead, which is slated to hit the screens on June 26. Kitty plays a pivotal role in this suspense thriller directed by Sathya Prabhas Pinisetty.

During a recent interaction with us, the actor expressed his excitement at working with producer Ravi Raja Pinisetty and his son Sathya Prabhas Pinisetty who is the director of the film. When asked about his experience working with the debutant director, Kitty had high words of praise for his directorial skills. The actor who enjoys working with debutant directors said that he felt refreshed working with Sathya and his brother Aadhi. The actor praised Sathya Prabhas to the skies for his intensive passion and determination for cinema. He also added that he did not feel like he was working with a debutant director as he was very clear and detailed in his characterisations.

When asked about the highlight of YNK, the experienced Kitty said that the high standards of professionalism held him spellbound. He also added that the hard work put in by all the crew members is evident in the trailer and would grab anyone's attention because of its intensity. The actor also appreciated the team for choosing the Thirukural quote Yagavarayinum Naa Kaakka itself as the title of the movie and also linking it with the story of the film. Kitty also felt that the film will be enjoyed by all as he felt that the storyline is based on a human drama which everyone could relate to.

Towards the end of the conversation Kitty did not forget to once again praise the director and his team. He ended by saying that Sathya Prabhas was the most promising director of recent times, who would make a revolution in the industry. Working with the Pinisetty family seems to have indeed been a great experience for the veteran actor.
TAGS: Aadhi Yagavarayinum Naa Kaakka,