By

Ambili S

| Galatta |

04:00 AM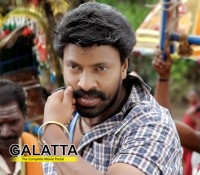 Hero of movies like Thoothukudi and Madurai Sambhavam, Harikumar's upcoming movie is Sankarapuram. This movie is being directed by famous villain Nambirajan, who has also penned the story of the movie. Kalabhavan Mani is reported to be playing an important role in the movie.

This movie is being produced by Rajendran on behalf of AMR Company and Vijay Sukumar on behalf of VSV Company. The two of them had planned to each take care of 50% of the production expense, and share the expenditure equally. Rajendran shot to fame, when he played the negative lead in the movie Eesan. Insiders reveal that Rajendran invested Rs. 50 Lakhs and kept his part of the bargain, while Vijay Sukumar was said to have invested a lot less, and also took money from the actors also, apart from falsifying the expense accounts. However, when the actors started coming to the production office, demanding their money, Rajendran came to know of these malpractices.

Following this, Rajendran has stopped any further work on Sankarapuram, and the movie which was nearing completion, has been put on hold. Rajendran, who has all the lab letters and contract documents for the movie, has deemed that there shall be no further work on the movie, unless the financial irregularities are set right! On knowing this, the cast and crew of Sankarapuram have become devastated, and are all hoping and praying that the issues are resolved soon, and the movie is completed.