By

Mahjabeen A

| Galatta |

12:14 PM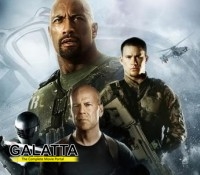 GI Joe 3D: Retaliation, sequel to 2009 film G.I. Joe: The Rise of Cobra is all set to hit the silver screens in India on March 27! Get ready to experience more action and adventure, with bigger explosions, uber-cool weapons and epic fight sequences! While a few familiar faces have been retained for the sequel, director Jon Chu has included a stellar new star cast!
Galatta bring to you the G.I. Joe Retaliation Contest! Answer simple questions about the movie and win exciting prizes!
1. Which electrifying WWE superstar plays 'Roadblock' in the movie G.I. Joe: Retaliation?
(a) Dwayne 'The Rock' Johnson (b) Kane (c) Stone Cold Steve Austin (d) John Cena
2. Which die hard American actor plays the character of General Joseph Colton in G.I. Joe: Retaliation?
(a) Bruce Willis (b) Sylvester Stallone (c) Arnold (d) Jean-Claude Van Damme
3. What is Adrianne Palicki's screen name in G.I. Joe: Retaliation?
(a) Jinx (b) Dela Eden (c) Lady Jaye (d) Baroness
4. "Let's move. The world ain't saving itself", who uses this catchphrase?
(a) Storm Shadow (b) Zartan (c) Roadblock (d) Duke
5. Who are the Joes fighting against in G.I. Joe: Retaliation?
(a) General Joe (b) Terrorists (c) Dela Eden (d) Cobra
Send in the answers with your complete contact details to contests@galatta.com