By

Prasanna Singh

| Galatta |

12:00 AM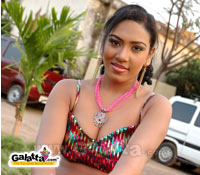 From the sets of Kudiarasu
Kudiarasu is a quick-paced film laced with plenty of action and romance. It looks very promising from the profile of the director and producer. Not only this, it also has a very good storyline and a fast-paced screenplay.
The film is about events in a span of 12 hours (between 6 a.m. to 6 p.m. on January 1st). Newcomers Vigneshwaran, Suguna and Deepa have done a neat job; producer Suresh Krishna is the second hero.
The fact that the director and producers of this film are masters in martial arts is clearly displayed in the stunt scenes of this film; producer Suresh Krishna is the 2006 national kickboxing champion; producer Satya is a kickboxer; director Sabir Hussain is a two-time national kickboxing champion. The film's stunts have been choreographed a la Bruce Lee style and match Hong Kong movies in quality. It also borrows some styles from Silambam and Kalari.
There were many interesting and breathtaking incidents in the film. The film's stunt artists used real weapons in this film (usually, dummy weapons are used to avoid any risk of injuries) and the choreography was really fast. Thus, every stunt artist suffered many cuts (some requiring sutures) including actor Vigneshwaran. But the most dangerous near-accident was when a dagger whizzed past stunt master Davasiraj's left eye, abrading his eyebrow. Only his quick reflexes, developed over years of training, saved his eyesight.
Another interesting incident showcases the Chinese medicine knowledge (that accompanies years of Chinese martial art practice) of director Sabir Hussain. While filming on the shores of a beach in Kovalam, a giant wave toppled actress Suguna and she bumped her head badly on a rock. She developed a huge blue-black swelling on her head, which was treated by Sabir through Chinese medicine and pressure-point massage on the sets; as a result, she was fighting fit in no time.
In another incident, Suguna was very shy and reluctant to act in a kissing scene. It took almost an hour of coaxing from everyone in the set to get her to do the act. Finally, when it was done, even Suguna could not believe the romantic and natural way the scene came out.
The film's sound effects are by Raju. Yes! It is the same Raju who handled the sound effects in Dasavathaaram. With all this, sure the film sure looks very promising.