By

Baiju NT

| Galatta |

12:00 AM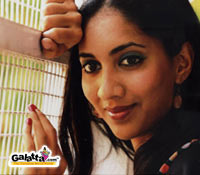 Chat with Srimathumitha
Galatta Cinema recently caught up with Kollywood's leading playback singer Srimathumitha to bring you more info about her; here are excerpts of the interview:
Tell us how you were spotted by Harris Jayaraj?
I come from a musically oriented family. My mother Hemalatha Mani is a renowned Veena vidushi and my sister Charulatha Mani is a famous classical Carnatic and playback singer. Music runs in my blood. I began formal training in Carnatic music at the age of four from my mother and later continued training under Padmashri Gayatri Sankaran. I started participating in TV contests. In 1999, I won the first prize in an All India Ghazal contest held at New Delhi. I was adjudged the winner by Yash Chopra, Uttam Singh among others.
In 2001, I released an album titled 'Film hits' on M.S. Subbulakshmi comprising songs from vintage movies like Meera, Sakuntalai, Savithri, etc. The song 'Katrinile Varum Geetham' made me really popular among people worldwide. Mr. Harris Jayaraj happened to listen to this album and called me for my debut in the Tamil movie Laysa Laysa for the song 'Mudhal Mudhalai'. Penned by Vaali and starring Trisha and Madhavan, this song became an instant chart-buster and launched me in a big way by god's grace. All thanks to Harris Jayaraj for such a big opening.
What was your first hit?
My debut song 'Mudhal Mudhalai' was my first hit. The reception was tremendous. I was flooded with offers from various composers like Mr. Deva, Mr. Bharadwaj, Bharani and subsequently recorded more hits for Mr. Harris like 'Oddiyanam senju Tharen', my first duet with Hariharan for Arul, 'Ennai pandhada' from Ullam Ketkume, both penned by Kaviperarasu Vairamuthu.
The next big super hit came from Yuvanshankar Raja, 'Kanaa Kaanum Kalangal' from 7G Rainbow Colony. Director Selvaraghavan heard my first song and wanted me to sing this very challenging song. We had a blast recording 'Kanaa Kaanum'. It is based in the raga Madhuvanthi and has a strong Hindustani influence. It was critically acclaimed and was a commercial super hit too. I won many awards for this song.
Post 7G, I have sung numerous hits for Yuvan like 'Vidigindra pozhudhu' from Raam, 'Sarigama' from Paruthiveeran, 'Taj Mahal' from Kalvanin Kadhali, all chartbusters.
Your favourite song and why?
From my songs, my favourites are 'Kanaa kaanum', 'Mudhal mudhalai', 'Kalavaaniye' from Mayandi Kudumbathar (2009) in Sabesh Murali's music, 'Valayapatti Thavile' from ATM and of course 'Liquid Dance' from Slumdog Millionaire.
Tell us the working experience in A.R. Rahman's Slumdog Millionaire
Slumdog Millionaire was truly a blessing for me. I have been featured in two tracks namely 'Liquid Dance' and millionaire theme. I immensely thank A.R. Rahman sir for this lovely opportunity. It is always a joy working for him. The fact that SDM won Oscars makes us all feel proud. I'm proud to say that I'm the only South Indian female singer to have been featured in this soundtrack. 'Liquid Dance' is a number that has jathis and swarams and a very Middle eastern feel to it. It became hugely popular in the West owing to its nativity and uniqueness.
The most memorable recognition you ever got?
When I was 5, I visited Bharat Ratna M.S. Subbulakshmi, who is my biggest inspiration. I sang 'Katrinile Varum Geetham' from Meera. She had tears in her eyes after I finished and said "Bala meeravukku en aaseervadham" meaning "Blessings to Little Meera". I am a devotee of lord Krishna and today, when I think of what she said, it feels like a prophecy that I have been born to sing and rule the world of music. That minu