Celebrity Badminton League launched!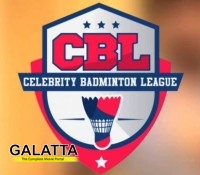 By

Krishna B Nair

[

October 14, 2015

]
Celebrity Badminton League, or CBL as it is called is a non-professional league, consisting of film actors from major regional film industries of Indian cinema. Inaugurated in the year 2015, CBL has received an overwhelming response from the film fraternity. CBL 2016 was launched recently by the God of Cricket Sachin Tendulkar and Wasim Akram at Dubai.

The biggest attraction is that Galatta also plays in the big league. The badminton team, which has been titled as CRV Pelicans comprises of a bunch of young stars. The aggressive team headed by Bharath, comprises of a long line up of energetic talents such as Aravind Akash, Diwakar, Ganesh Venkatraman, Mahendharan, Praveen, Sreeman, Vijay Yesudass, Gayathri Ragu Ram, Maheshwari, Meena and many others.

The upcoming CBL tournament is slated to be conducted on January 29th of 2016 in Dubai in the presence of Masterblaster Sachin Tendulkar. Interestingly, CBL becomes the first International League to be held in Dubai. Let's wait anf watch the stars locking horns on the badminton court! We are all set for some total Galatta.
TAGS: Bharath , Ganesh Venkatraman , Meena , Gayathri Raghuram