Breaking: Tollywood to come to a stand still?
Share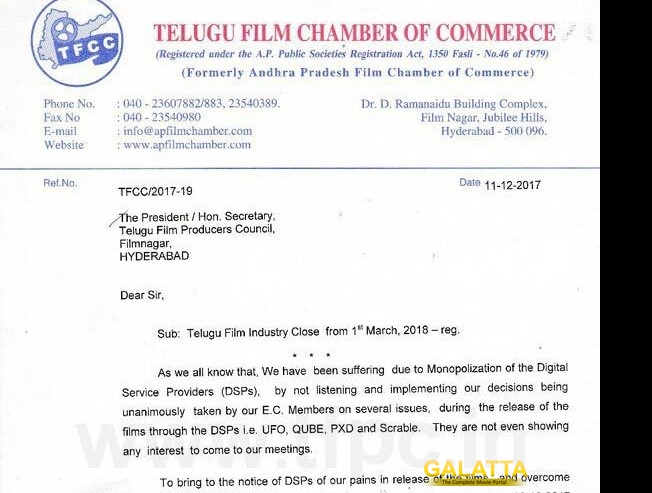 By

[

December 14, 2017

]
While we are celebrating movies like Baahubali from Tollywood and Chiranjeevi's Sye Raa Narasimha Reddy is in the making, we have this update from the Telugu Film Chamber which is quiet shocking.
The letter dated 11 Dec 2017 from the Telugu Film Chamber of Commerce has been written to the Telugu Film Producers Council with the subject that 'Telugu Film industry Close from 1st March 2018'.
The reason behind this shocking update is that the Digital service providers have been monopolized and the release of movies are happening through UFO, QUBE, PXD and Scarble etc and this monopolization has caused suffering to them as the decisions taken by the E.C. members are not implemented.
They have mentioned that the DSPs are not even interested to come for meetings and hence they unanimously resolved to close all theatres and stop all releases from 1st March 2018.
They have also advised the Producer council not to plan any shooting from 1st March.