Galatta
|
12:00 AM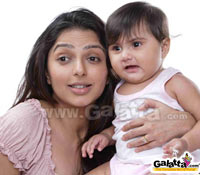 Bhumika's Mallepoovu in Tamil
Ever since the photos of Maa were released, Bhumika (also referred to as Bhoomika) has become the talk of the town. There is not a single person who did not comment on how beautiful she has become of late. The photograph in which she poses with a child caught everyone's attention – her angelic beauty�left everyone sighing!
The actress is extremely busy with her married life and Tollywood projects, so she is not able to�sign more Tamil films; she was last seen in the Suriya starrer Sillunu Oru Kadhal. But one need not wait until the release of Maa, which also stars Srikanth and Prithviraj, to catch a glimpse of this beautiful lady. Here comes the Tamil dubbed version of her Telugu hit Mallepoovu, which became highly popular for her beautiful performance! Titled Malligai in Tamil, the film is�about a girl who struggles to prove that she is not a terrorist.
The film has beautiful music composed by maestro Ilayaraja. Snegan and Yugabharathi have penned the lyrics in the Tamil version. Muralikrishna is the hero; Kovai Sarala, Farzana, Kadhal Sukumar, RK, Suman Shetty and�Venumadhav form the supporting cast. V. Samudram is the story, screenplay, and dialogue writer and also the director.