Galatta
|
12:00 AM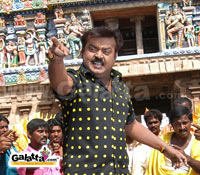 Arasangam in Hindi
Vijaykanth starrer Arasangam is a big hit now and has gained the attention of Bollywood as well. Talks are going on to remake Arasangam in Hindi. According to sources, some producers and distributors of Bollywood have contacted director Madesh in this regard, though it is too soon to say if he will direct the Hindi version as well.
Talks are also on to make either Ajay Devgan or Sunny Deol act in the Hindi version of Arasangam. It is to be noted that actor Sunny Deol was the hero in the Hindi remake of Vijaykanth's Vallarasu.
So we will have to wait and see how things will shape up from here.
TAGS :