A.R. Rahman's live concert in Chennai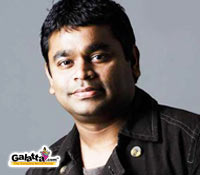 By

Baiju NT

[

September 25, 2009

]
A.R. Rahman's live concert in Chennai
Here comes the grand fiesta for those who yearned to catch the sensational moment of a live music show by maestro A.R. Rahman!
The Oscar winning music composer will perform a live concert to be held on October 11 by MARG in association with Shakthi Foundation at MARG Swarna Bhoomi, East Coast Road, Chennai. A.R. Rahman's last concert in Chennai was held in 2002 in association with Mahesh Memorial Cancer Institute for raising charity funds.
According to MARG and Shakthi Foundation officials, it's a concert that is not only aimed at sharing scintillating music, but also an important occasion aimed at raising funds to help The Shakti Foundation its noble quest for providing the Adhiparasakthi Medical and Research Hospital with medical equipment. Tickets are available from the range of Rs. 300 to Rs. 5,000 at various centres in Chennai.