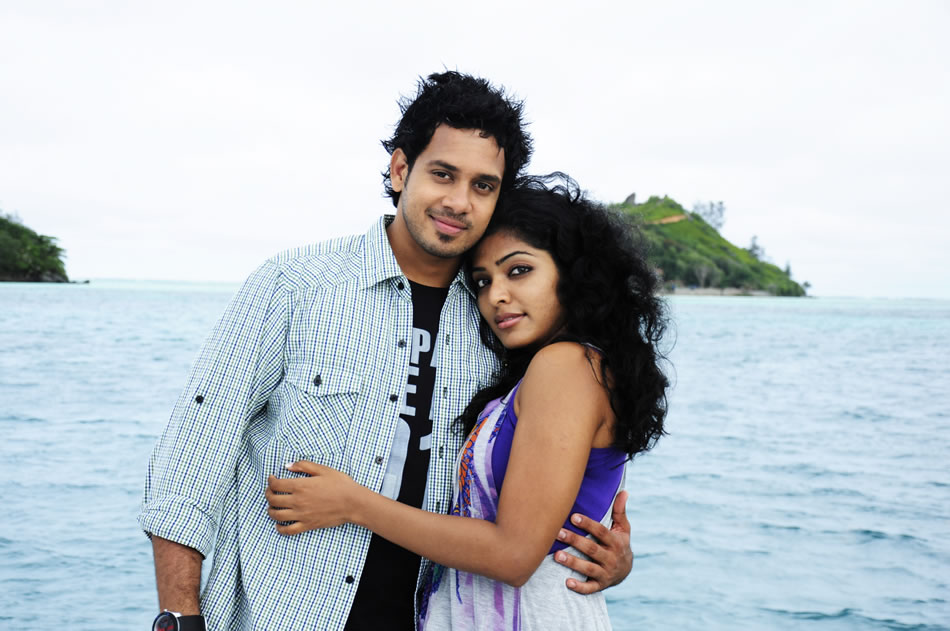 Yuvan Yuvathi Movie review
Romance and Tamil Cinema always go hand in hand. If there is one genre that never fails at the box office, it should be romance. Chocolate hero Bharath, who played a critically acclaimed role in Vaanam, is back with director GNR's Yuvan Yuvathi. The film was recently in the headlines for grabbing a clean U certificate from the Censor Board without any cuts. The script, written by S. Ramakrishnan, has equal doses of love and humour. Yuvan Yuvathi marks the Kollywood debut of Rima, a popular star in Mollywood. The film also has Santhanam in an important major role.
Yuvan Yuvathi narrates the relationship between father (Sampath) and son (Bharath). Bharath plays the role of a modern guy working in a corporate setting. It's a tale of two lovebirds working in a corporate setup. Earlier, the director assured that the sizzling chemistry between the lead pair will create wonders on screen. So let's take a look at the plot of Yuvan Yuvathi.
THE PLOT
Kathir aka Kathiresan, an IT graduate, works for a leading MNC in Tidel Park. Like many youngsters, his main goal in life is to settle down in the US. Reason? His father (Sampath), an arrogant villager from Usalampathi is behind him with a marriage alliance. Kathir's father is the zamindar of his village who strongly opposes love marriages. He has even gone to the extent of killing a young man for marrying the girl he loved. To escape from his father and the arrogant behaviour of his relatives, Kathir plans to go to the US secretly. Kathir's good friend and room mate Sakkara (Santhanam) helps him in all his good and bad deeds.
One day, Kathir meets Nisha (Rima) at the US Consulate; like any other love story, they end up fighting with each other. Meanwhile, Nisha loses her passport and blames it on Kathir's bad luck. After a series of incidents, Kathir helps Nisha get a new passport and he slowly falls in love with her. Later, Kathir and Nisha apply together for US visas which they get. A day before their journey, Nisha reveals that she is going to get married in the US soon. Kathir is heartbroken!
The twist comes in the form of Kathir's father, who misunderstands that Nisha is his son's girlfriend and decides to kidnap her. At the right time, Kathir reaches the spot and rescues Nisha, but her marriage gets canceled.
The story takes a leap of ten months! At Seychelles Island, Kathir is now working as a project manager and none of his family members know about his whereabouts. There, he suddenly meets Nisha, who works in a hospital! What happens next? Watch out for Yuvan Yuvathi!
THE PERFORMANCES
Bharath looks stylish and does his part very well. But we would expect to see in more author-backed roles like Veyyil and Vaanam. As usual, his dancing skill is one of his biggest assets. Rima Kallingal, who made her on screen debut with Shyamprasad's Ritu, looks beautiful. She does her part very well and sends out a clear message that she is here to stay. Santhanam's comedy one liners impress in bits and pieces. Sampath is one of the major highlights of the film and excels as an arrogant father. Anuja Iyer and Shakthi make special appearances towards the end of the film.
THE TECHNIQUES
Director G.N.R. Kumaravelu, who cranked the camera for Ninaithale Innikum, has come out with a feel-good entertainer. However, a couple of songs and some scenes could have been deleted to improve the pace of the film. Music by Vijay Anthony is good with the songs 'Oh My Angel' and 'Kola Kuthu' standing out. Camera work by Jagadeswaran is classy and sophisticated. The beauty of the Seychelles is rightly captured by Jagadeswaran's lens but G.K. Prabhkar's editing could have been better.
Overall, Yuvan Yuvathi is another feel-good entertainer!