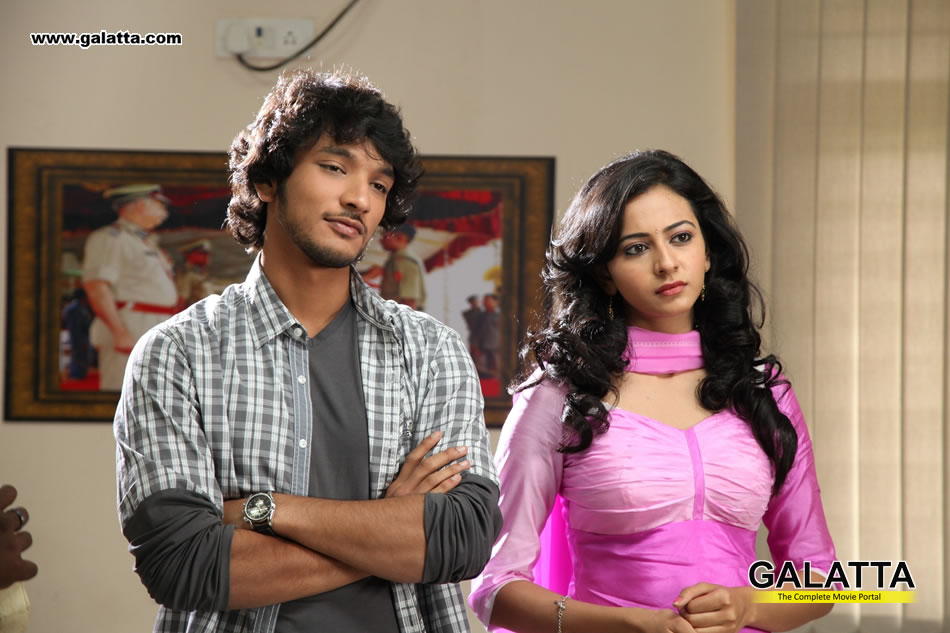 Yennamo Yedho Movie review
Yennamo Yedho is a romantic comedy directed by Ravi Thiyagarajan. This film is a Tamil remake of the Telugu blockbuster Ala Modalaindi directed by Nandhini Reddy. Gautham Karthik and Rakul Preet Singh are reprising the roles of Nani and Nithya Menon. Nikeesha Patel, Prabhu, Manobala, Anupama Kumar, Madhan Babu and Azhagam Perumal are seen in supporting roles. Gopi Jagadeeshwaran has handled the cinematography and Alen has done the editing. D. Imman has composed the tunes for the film. Ravi Kumar and P.V. Prasad have jointly produced the film.
Yennamo Yedho starts as a thriller when Prabhu who plays detective kidnaps Gautham (Gautham Karthik). On the way, Prabhu asks Gautham to share his love story and there begins the flash back. Gautham was initially in love with a girl named Simran. One day, when he was on his way to meet Simran, he gets hit by a car and suffers a fracture. Simran and the doctor who treated Gautham fall in love with each other and they get married. Gautham and his friends plan to go to Simran's marriage and Gautham gets drunk on seeing Simran with her husband. There he meets Rakul Preet Singh, who is in the same state as Gautham. Later, he gets to know that Simran's husband was Nithya's ex-boyfriend. They enjoy the night singing and dancing. After the marriage, they part ways and move to their respective cities. One day, Nithya meets Gautham at a pub and discovers that they have common friends. Nithya enjoys her time in Chennai only because of Gautham. When Gautham decides to tell his love to Nithya, he finds out that Nithya is engaged to Raja. There will be several instances where Gautham and Nithya inch close to confess their love but fails to do so. Will Nithya and Gautham confess their love, forms the crux of the story.
Director Ravi Thiyagarajan has done a decentjob with the screenplay. The film is draggy in a few places, but is compensated byRakul's bubbly characterisation and comic sequences by Manobala and Madhan Babu. After Kadal, Gautham Karthik as the next door boy has performed well. Rakul Preet Singh as Nithya has outdone herself with her acting but sometimes, her bubbliness goes overboard. Immanhas rendered foot tapping numbers and the song sung by Anirudh and Shruti Haasan is the one to watch for. The cinematographer and editor have given their best in maintaining the quality of the product. The repeated break up scenes could have been cut short which takes a toll on the film's pace. The pre-climax and the climax scenes have rib-tickling comic sequences that will make you enjoy the light hearted film.
If you are waiting for a breezy love story and a light hearted entertainer, Yennamo Yedho is worth watchable once!