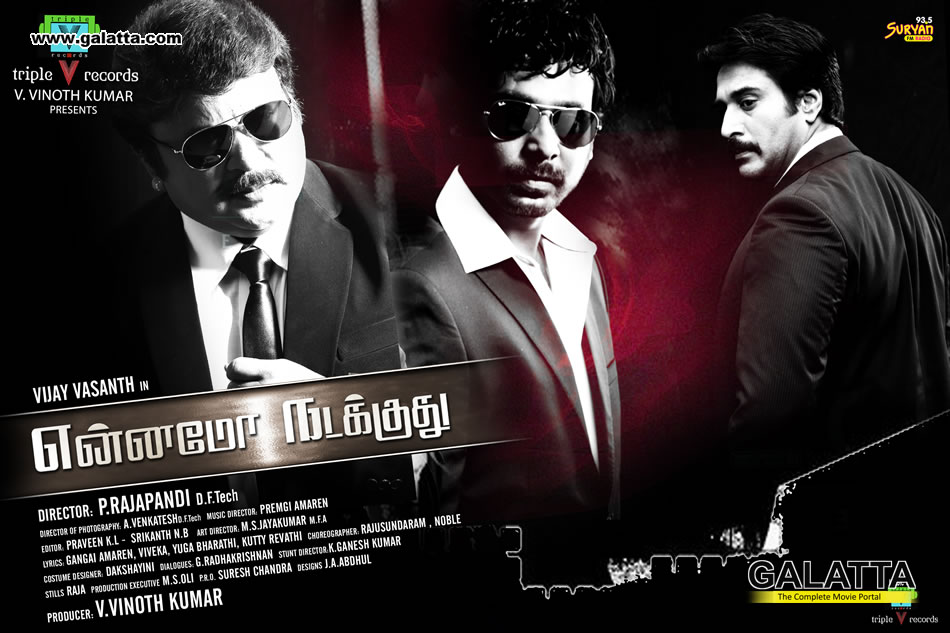 About

Yennamo Nadakkudhu
Burma, a gangster and politician, is after Vijay, who, he thinks, has swindled him of a huge amount of money. But Vijay claims that the money was stolen from him. Is he lying? If not, who has stolen the money and why?
Yennamo Nadakkudhu Movie review
Ennamo Nadakudhu is a thriller film starring Vijay Vasanth and Mahima Nambiar. This film is directed by a newcomer Rajapandi, a close associate of Mani Ratnam who worked in Thiruda Thirudi. Prabhu, Rahman, Saranya Ponvannan, Sukanya and Thambi Ramaiah are seen in supporting roles. A. Venkatesh takes care of the cinematography and Praveen K.L and N.B. Srikanth handles the editing. Ennamo Nadakudhu is produced by Vijay Vasanth's brother Vinoth Kumar under the banner of Triple V Records. Premgi Amarean has scored the music for the film.
Vijay Vasanth is back in action as a solo hero, after a long time. Mahima essays the role of a nurse and Vijay falls in love with her. Mahima is struck with a problem and Vijay helps her by borrowing money from a big shot. Rahman plays the role of a politician and Prabhu portrays the role of a businessman in the film. Following certain event, Vijay is struck between Prabhu and Rahman, two of the most powerful men. Will he manage to solve Mahima's problem? Will he escape from these big shots? Well, watch the film to know the answers.
Vijay Vasanth's acting is at its best and has delivered his role to perfection. The screenplay is super fast and keeps the viewers engrossed in the film. Editing by Praveen and Srikanth compliments the script. The fast cuts and racy screenplay will have the viewers glued to their seats throughout the film. Premgi Amarean excels with the background score which is an added advantage. Rajapandi's attention to minute details has helped to maintain the thrill factor in the movie.
All together, Ennamo Nadakudhu is a must watch entertainer for this summer! What are you waiting for? Head over to the theatres to catch the movie now.