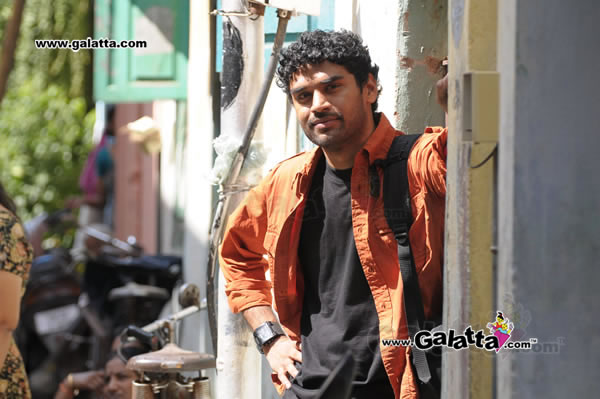 Yathumaagi Movie review
The one genre in World Cinema that will never die is Romance! So here comes another movie of the same genre - Yathumaagi - with 'Thigatta Thigatta Kaadhal' as their tagline. The story is a pretty familiar one in Tamil Cinema; there is a girl who doesn't know how to express love and then there is a boy who doesn't realize her love for him.
Interestingly, the title is inspired from a famous Bharathiyar poem which creates curiosity in the minds of audiences. Debutant director Balakumar has managed to come up with a neat romantic flick without any glamour or action sequence.
What is in it?
Anand (Sachin) is an advertisement photographer who creates trouble whereever he goes. Quite opposite to him is Annalakshmi (Sunaina), who is very conservative in her looks and a movie buff. One day, Sachin helps Anno (as she is called by everyone) to cross the road and after a few initial encounters she develops love for him. Surprisingly, they becomes neighbors but Anand has other plans. Soon, Anno finds that Anand hails from a rich family of doctors.
Now the twist occurs when Anand accepts an arranged marriage proposal. A series of incidents occur which makes the boy to fall in love with the girl. The rest of the story is told with some unexpected twists which end in an interesting climax.
Who is in it?
Debutant Sachin as Anand has done his part well. Sunaina is the biggest highlight of the film. She does exceedingly well and the role of a conservative girl with traditional costume is tailormade for her. Riyaz Khan and other have very little scope to perform in the film. Debut director Balakumar has added many twists to a simple love story which make the viewers guessing what comes next.
However, some sequences in the film are very melodramatic and filmy, which we have seen over the years. Another important highlight of the film is the amazing music by James Vasanthan. The song 'Pesum Minsaram' stands out and has been picturised very well.
Chozha Creations are re-entering the industry after a long gap. This is the same banner that had introduced Ajith to filmdom with Amaravathi.
The Verdict
Yathumaagi is a simple feel-good love story with many twists and surprises. The whole film except the climax is narrated in a flashback mode which could have been avoided. But debutant director Balakumar must be appreciated for giving a neat and clean movie without too many extraneous elements like comedy tracks or glamour.
Check out: