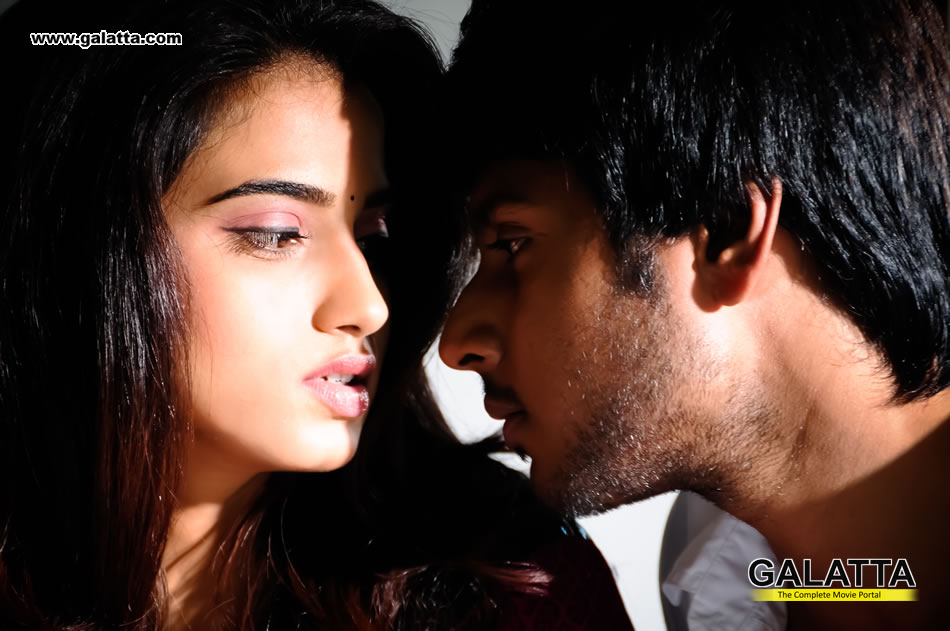 Yaaruda Mahesh Movie review
Sundeep Kishan, who made his entry into Kollywood with the Tamil-Telugu bilingual Maranthen Mannithen, is now back with the laugh riot Yaaruda Mahesh, produced by Colour Frames and Red Studios, and distributed by Anbu Pictures!
Siva (Sundeep) is a happy-go-lucky college student, who cares for nothing much other than himself! His main traits are his carelessness and a total lack of interest in anything in life! At college, he chances upon a beautiful girl Sindhya (Dimple), one of the most sought after beauties in the college, and falls for her big time! In the process of wooing Sindhya, Siva manages to cause problems for everybody around him, the biggest victim being his closest friend Vasanth (Jegan)! Eventually, Sindhya too falls for Siva, and the two get together! However, in the final exams, Sindhya tops the college and gets a scholarship to study in the US, but Siva ends up with 10 arrears. Siva bids a disappointed farewell to Sindhya, who flies to the US to complete her higher studies!
One fine day, Sindhya calls up Siva and tells him that she is returning to India the next day, and has something important to tell him! She arrives and throws the bombshell that she is pregnant with Siva's child! This causes pandemonium in both their families, and after heated discussions, both get married! A few years down the line, Sindhya is working, but Siva is the same careless, aimless guy, but with the added tag of a father! Siva is happy to just play around with his son Rahul all day, and has still not completed his arrears! One day, in the middle of the night, Siva wakes up to see Sindhya talking to somebody over the phone! The next day, while playing with his son, he overhears Sindhya telling someone called Mahesh on the phone, that despite him deserting her, she has gotten herself a good but brainless husband who doesn't suspect her, and has also unquestioningly accepted the child as his own! This shatters Siva's world! He decides to track down that Mahesh, and his quest to find out who Mahesh is, forms the rest of the story! On his quest to find Mahesh, he comes across all his former friends, and comes to know of all the trouble he has caused for them! Where will Siva's quest lead him to? Has he been fooled into becoming the father of somebody else's son? Who is Mahesh? Head to the theatres to join Siva's quest for Mahesh!
There have been many movies which have had some comedy tracks with adult humour and double entendre! There have also been some half-boiled attempts to make comedy films with an overdose of dark humour! However, Yaaruda Mahesh is a full-length comedy, with liberal doses of adult humour and double entendre, which keeps you in splits throughout! R. Madhan Kumar, who has written and directed the movie, deserves kudos for attempting such a risque project, and coming out with flying colours!
At no point in the movie does Sundeep Kishan look like a new star, just a few projects old! He has breathed life into the character, and suited the role to a T! Dimple, as the beautiful college girl, and later a working, married wife, is perfect! Her smile lights up many scenes! Jagan, Livingston, Uma Padmanabhan and almost the whole cast, keep you in splits with their comic timing! The screenplay is just too good, though one could guess the twist in the tale, the racy screenplay laced with abundant humour, keeps the viewers firmly rooted to their seats! The frequent songs just seem to hinder the movie a bit! But, with very few serious moments, the theatres will be filled with whistles and claps throughout, as the funny dialogues and one-liners just keep rolling out, one after the other!
Yaaruda Mahesh is to Kollywood in 2013, what Delhi Belly was to Bollywood, in 2011!