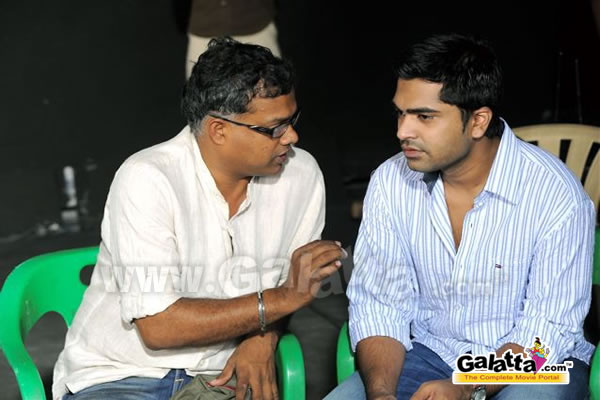 About

Vinnaithaandi Varuvaayaa
An aspiring filmmaker goes through the ups and downs of romance when he falls for a Christian woman who says she only wants to be friends.
Vinnaithaandi Varuvaayaa Movie review
It is impossible to write a run-of-the-mill review for a Gautham Menon film follows the format of introduction, synopsis, a short critical perspective and finally, a verdict. Usually, the story itself can be said in a few lines. but even an A3 sheet may be insufficient to describe the experience of Vinnaithaandi Varuvaayaa (VTV).
So, you'll thank me for this review which is a little shorter than the ones I tend to write and here, I have but a few brief words for the storyline itself, followed by a masterful effort to NOT gush over some of the stupendous work in the movie and a speedy roundup and verdict - but this is only because I neither have the space nor the vocabulary to do justice to the experience of watching this movie.
The Story
Karthik is our young hero. A 22-year-old man who has just finished his engineering degree and has cinema on his brain - he wants to become a film-maker one day. He is no shirker in his efforts; his days are spent knocking down doors of film directors' offices and studio hangars, hoping for a chance at assisting an established film-maker. And then one day, Jessie breezes into his life. Do you remember the 'Thunderbolt Effect' in The Godfather series when Michael Corleone first meets Appolonia? That is what Karthik feels when he sees Jessie from afar. She lives upstairs on their two-level independent home and barely notices him for the first few weeks. Then the contrived "chance" encounter by Karthik on their rooftop, the fervently planned meeting at a KFC joint where Jessie works, the way he blurts his love to her, his impulsive trip all the way to her native Alapuzha to apologize to her for that, their discovery of their love and - the strongest element in their love story - whether they are fated to be together or part ways, given their tumultuous environment.
Jessie looks barely out of her teens, so fresh and doe-eyed is her appearance. Yet, she is not only an intelligent and well-grounded young woman, she is an year older than Karthik! And she is the yang to his yin. Where Karthik is full of, "Let's do it! Let's face the world, even our families and let's be together! Let's fearlessly shout our love from the rooftops!", Jessie is full of, "This is the worst-ever life plan. It would never work between us, thanks to my family and our religions. This would never work because I am so indecisive about making such emotional decisions!"
Jessie is torn between her love for Karthik and loyalty to her family.
Vinnaithaandi Varuvaayaa - will you cross the skies for me? This is the premise of the entire Karthik-Jessie love story. Will he wait forever for her? Will she cross her own hurdles to come to him? Will they run away from the world and be together? Will they fall prey to each other's diametrically opposite perspectives and lose out on love?
The Performances: On- and Off-screen
Simbu and more Simbu all the way. What a fantastic, underplayed and completely heart-melting performance. You have never seen Simbu like this before. You can fall in love with Simbu's Karthik. He has that glint of wry humour and sarcasm in his eye, he has that underplayed sexuality, the subtle hints of young love and young lust and glimpses of raw emotion - be it anger, frustration or rage. From the first moment one sees him on screen to the last shot, Simbu stays with you all the way. It would be impossible to see him again in any of his gyrating, fancy-move-making movies after this one.
Trisha is the essence of angelic beauty. Innocent without losing her savvy; vulnerable without seeming helpless; confused in matters of the heart, without looking fickle. For Trisha too, this is perhaps one of the finest, most poignant roles she has done.
Ganesh, who has been part of the Madhan-Ganesh executive producer duo with Gautham since the days of Vettaiyaadu Vilaiyaadu, surprises us all by being fabulous. and himself in the movie! His sarcastic sense of humour, his mantle of reliability without being prudish and his comic timing with a straight face are worth applause - and applause he gets from the audience, every time!
Manoj Paramahamsa has magic in his lenses or fingers or something! The crystal clarity and sharp purity of every frame - night or day - is that of an expert veteran. The entire viewing experience has been enhanced simply because he has made it possible for every frame to look lucid, sharp and pleasing.
I feel hesitant to even mention the masterpiece that A.R. Rahman has created in the sound track. From song to song, to the background score, the moods of each moment are captured by this genius and this movie would be but a fraction of what it is without his music.
Points to ponder
Just like Vaaranam Aayiram, Vinnaithaandi Varuvaayaa too is not a story but a process of story-telling. The movie is one long flow of emotions and incidents and not really a neatly categorized tale. Great for a seamless screenplay and showing the beauty of every moment, unfettered by the framework of any particular need in the script to move the next level. In this lies its minuses as well. For, at times, there seems to be little progression in the lives of Karthik and Jessie as he chases her and she tremulously reciprocates her love for him. It almost seems as if the entire movie is a struggle for him to convince her to defy the world and be with him; so also it seems she is constantly in turmoil, telling him to run away from a futile relationship even as she showers her love upon him. One almost feels the urge to stand up and tell Jessie, "Look at the boy! What are you waiting for! Will you please go for it!"
The movie has been beautifully shot. This is perhaps the first Tamil movie I have seen in a long time that is comparable to a progressive Hindi or English movie. The camera angles, the expressions of the actors, the muted, Mani Ratnam-style of dialogue delivery, the finely choreographed fight sequences, the subtle ways of bringing out the personalities of the protagonists. perfect. While I personally find the last parts of the movie a little lagging behind in pace and intrigue, I can't help but give full marks for technical efficiency of screenplay and editing. Between Gautham, Manoj, Rajeevan and Anthony, VTV is a beautiful moving painting. Perhaps an elegant snip here and there in the second half would make it even tighter and focused.
Malta is gorgeous, New York is heady, Goa is breathtaking and Kerala is God's own country. Their individual beauties have been captured inspiringly by Manoj. Unfortunately, they all appear only for a few minutes to the audience, except for Kerala, where there are actually longer and vital scenes shot. The rest of the movie is mostly shot, in true Gautham Menon style, in and around Chennai's favourite hangouts - Gautham's own office, Sathyam Cinemas and so on, with travel thrown in many a time in Simbu's or Gautham's own cars! Even the crew members are boys and girls from Gautham's own team! At some places, these are nice to watch and feel the warm glow of familiarity to the places and the people. At times, it makes one wonder what exactly the film's budget was!
There are interesting quirks in the storyline that bring in some personal elements: a brief glimpse of an actual movie being made by Gautham as we speak, the journey of Karthik (who once wanted to work with "director Gautham Menon" when he went looking for a job) as a struggling filmmaker, the taboo of working in the cinema industry and the engineering and science-math backgrounds of Karthik and Jessie remind us of Gautham himself or, if you're from Chennai, the familiar institutions and favourite hangouts of our growing-up lives.
Verdict
For sheer beauty of every shot, for Simbu's excellent work, for A.R. Rahman's achingly beautiful music, for Trisha's angelic presence, for the director's sleek screenplay and for the love of good cinema - please watch it!
Beware: Learn to ignore the stagnancy of pace sometimes or the lack of progression to the next level in Jessie and Karthik's relationship. Clarity will find you toward the end.
Review by Shakthi Girish
Please note: Every review on Galatta.com is written by the person who has watched the movie. Therefore, while conscious effort is made to give a fair, unbiased and ethical opinion, every review will have a personal element and opinion to it. Ultimately, every movie experience is a personal one and readers should watch each movie on their own terms.