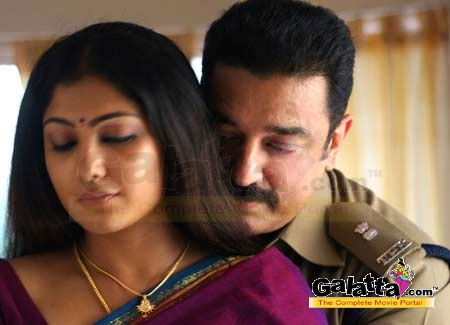 About

Vettaiyaadu Vilaiyaadu
A Police Officer investigates a series of brutal rapes and murders, with the culprits seeming to cover more than one country.
Vettaiyaadu Vilaiyaadu Movie review
Deputy Commissioner of Police Raghavan-feared by criminals, respected by the police force; tough, resourceful, has a keen mind and is ruthless with the bad guys. And yet, he is human-no undue stiff neck and overtly "correct"and serious personality. This man is also intense, loyal, has a deep sense of ethics and goodness, especially when respecting women... and a streak of humour here and there!
We start this pulse-pounding and nail-biting thriller of a police story by watching DCP Raghavan making so much mush out of hardened criminals across Tamilnadu. Not only is he smart, quick on the draw and can land a mean punch, his detective mind and police cunning is to be admired too. A quick and racy montage gives us a "kandein Seethai" version of what kind of cop Raghavan is.
But all is not always well. His mentor and boss Arokiaraj (Prakashraj) calls upon him to help him find his missing daughter Rani – she had spoken to him just hours ago promising to return home to their town and never turned up. Using reason, logic and quick police work, Raghavan follows a trail of clues to a tragic end. Rani has been brutalized and murdered in a deliberate and planned manner. Obviously by educated and very professional person or persons, from the slick handiwork of the gory evidence on the corpse and the bait that was used to provocate the police force.
Arokiaraj and his wife are unable to deal with this brutal end to their only child and a happy life and move to the United States to live out the rest of their lives. Raghavan promises to find the killer and bring justice and retribution.
Unfortunately, still more tragic events force Raghavan to visit the U.S. as a representative of the Indian Police Force – more murders, missing people and similar evidence suggesting links between the crimes done with Rani and the ones abroad. NYPD requests Raghavan's help in solving the case.
DCP Raghavan's first flight to the U.S. is filled with memories of a happy life with his wife Kaayalveli (Kamalinee Mukherjee), the good times of love, romance, fun and togetherness and the drastic turn of events that changed their lives completely.
Raghavan settles down to fast-paced New York and some fast-paced police work. Aradhana happens to Raghavan quite by accident. Her life and sorrows draw him initially in a platonic manner and then as someone who is more than just a concerned human being. A friendship (and maybe something more?) develops.
Before anything else, though, comes the work at hand and Raghavan's hard at it. Clues and trails lead him and his NYPD counterpart Anderson from one theory to another piece of evidence until, despite much lack of confidence from Anderson, Raghavan leads them both to a horrible discovery whose only plus point is that many unsolved cases finally get some answers! NYPD wakes up to some terrible truths and Raghavan's small case and crusade turns into a nation-wide hunt for killer or killers still on the loose.
And then we catch a glimpse of Amudha (Balajee) and Ilamaran – students of medicine with very dark sides to their nature. They are passionate, disturbed, psychotic and totally dangerous.
What happened that brought Raghavan to New York? How did his investigation progress there and how did it relate to the crimes committed back home in India? What turn of events affected Kaayalveli and Raghavan? How does Aradhana fit into this entire picture? What happens in the lives of Amudha and Ilamaran and what happens between them and Raghavan?
Questions and more questions – and each of them answered in Gautham Menon's signature slick and urban style where he effectively interweaves action, suspense, gore (like we said, it's a daring movie!), romance and succinct "flashback" to create a well-woven thriller.
What one sees the story unfold as: fast-paced action and some keen detective work, some real human