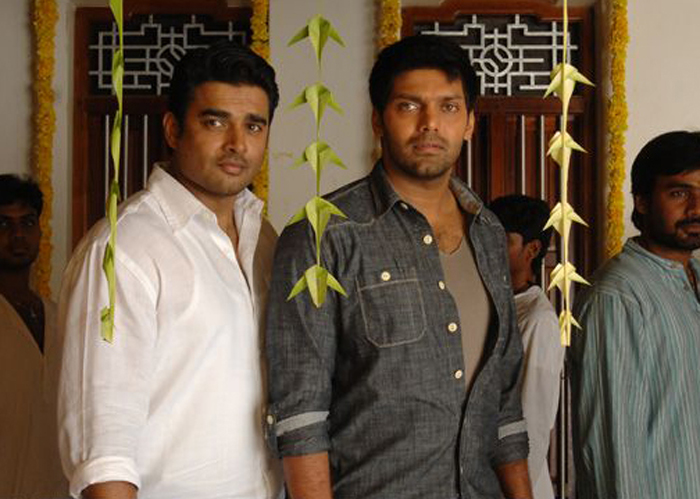 Vettai-2011 Movie review
If you were looking to have a fun, light-hearted Pongal, the cinemal hall is one place you shouldn't miss going to, because of Vettai.
What's it about: Vettai is what Vettai promises – a full-blooded, feel-good commercial entertainer.
Storyline: The movie is set in southern Tamilnadu – in and around Tuticorin. Thiru (Madhavan) and Guru (Arya) are inseparable brothers; except that Thiru is a timid fellow lacking in any kind of courage and conviction, while Guru is aggressive and unafraid – a bit of a twist here is added with Thiru being the older brother, not the other way around!
Their father is a policeman and they are constantly in situations that end in minor scuffles that always bring constant worry and embarrassment to him.
When their father suddenly dies, Guru decides that Thiru is the perfect person to uphold his legacy and follow in his footsteps; and urges him to complete his training to become a cop himself. And so Thiru does, after constant badgering and pushing from Guru.
His first posting is in a community where he tastes power and respect from the people (as someone in a cop uniform usually experiences), but then realizes that the price is too high to pay – he has ended up in a place full of gang-wars and crime. The two main rival factions that bring chaos and terror to his community are those of Ashutosh Rana's character (a cruel, fearful man whose henchmen call him "Anna") and Mari; once associates and now bitter enemies.
Thiru calls Guru and tells him that he is the last person on earth who can stand up to all this horror and prefers to quit. But Guru comes up with a devious plan to outwit and quell the bad guys and bring immense awe and hero-worship to Thiru as well… by being the secret weapon who defeats the baddies and positioning it so that it looks like Thiru is the one who has vanquished these villains.
Somewhere along the way, they meet Vasanthi (Sameera) and Jayanthi (Amala Paul) and get on the romance rollercoaster. Vasanthi is spoken for by Thiru and Jayanthi is hilariously-but-ardently wooed by Guru.
Meanwhile, their double-game hangs by a thread as Anna finds out their secret, creates havoc in their lives and eventually paves the way for a firecracker of a comeback by Thiru.
Much racy entertainment and explosive action scenes later, the duo of Thiru and Guru stand together as heroes and inseparable brothers all the way to the end.
Thumbs Up for:
1. Racy screenplay: The plot is quite simple and is amply made up for with alternating doses of humour and action. This is what we came for, right? Well, we get it in large doses!
2. Vibrant cinematography: Nirav proves once again that myriad hues are his forte. Smooth in the panorama scenes, dramatic in the action scenes and full of colour during the song sequences.
3. Good casting: Romance-wise, the on-screen chemistry between Maddy and Sameera; and Arya and Amala Paul is sizzling! The villains have been well chosen and the characters of Nasser and Thambi Ramaiah are well placed.
4. Crackerjack screen impact: For a good several minutes, it looks more like an Arya-film – his rakish good looks, irreverent charm, infectious humour and power-packed action sequences vis-à-vis Madhavan's timid personality. And then everything changes (evident with the whoops and roars of cheering response from the audiences) when Thiru makes his unbeatable about-face. Cool punchlines, the fire in his eyes and the power in his fist put Maddy firmly back at the pinnacle of the fan-frenzy he created with his other Lingusamy-directed movie, Run. Sameera and Amala Paul's characters too are a little different from rote. Instead of the usual simpering small-town females, they are bold without losing their femininity and as cocky as the men they fall in love with. Nasser is hilarious, even though his role isn't gigantic. Thambi Ramaiah is perfect too! With his fiery eyes, Ashutosh Rana makes a fine villain, especially in the climax fight when he shows that he not only still packs a mean punch, but he can also take on 10 men at once, if he so wishes.
5. Foot thumping, hip shaking music: This may not be Yuvan's best album, but it's not that far behind from his others either. Every song will have you hum along at least for a bit; or during the fun numbers, get you into the groove and tempo of it all.
Dampers: The movie is a bit too long. For a racy entertainer, a good 15 minutes less will have you still buzzing to the beat when you leave the theatre, but here the action scenes are a couple too many and the ending, a little abrupt. Meanwhile, since Lingusamy is sticking to formula, he could have carried it all the way and thrown in an essential comedy character too (like Santhanam or such) – but no big complaints here because Arya and Madhavan carry off their humour quotient pretty darn well themselves.
What we loved:
1. Arya's mega-presence. He is utterly handsome, utterly macho, utterly hilarious and quintessentially male. His role suits him perfectly!
2. Madhavan holding his own. He hasn't lost his charm or his screen-presence. Juggles dialogue delivery, a complete shift in personality and his unbeatable charisma with aplomb.
3. The cocky leading ladies. Sameera's aggressive personality vis-à-vis an equally bold but visibly little-sister character in Amala Paul. They're pretty… and pretty cool!
4. Humour above action. The action scenes are fun, racy and will have you cheering on, but we liked the humour even better. Without a central comedic character, it was all up to our lead and supporting cast to carry this baton and they do it well!
5. From a marketing and media angle, special kudos to UTV Movies and Thirrupathi Brothers – it's not always in Tamil cinema that a production house takes its publicity beyond the run-of-the-mill posters and television ads. These guys have done a promo blitz across all media – print, the Internet, radio, viral marketing, interactive campaigns and whatnot, apart from the traditional methods. As a result, Vettai has managed to hold its own in the pre-release buzz, despite being pitted against a big movie like Nanban.
Verdict: Fun, full-pelt entertainment, spicy commercial masala fare. Leave your arty thinking cap at home, brush up on your whooping and whistling skills and get ready for an electric rollercoaster ride!
Review by Shakthi Girish, Editor in Chief, Galatta Cinema