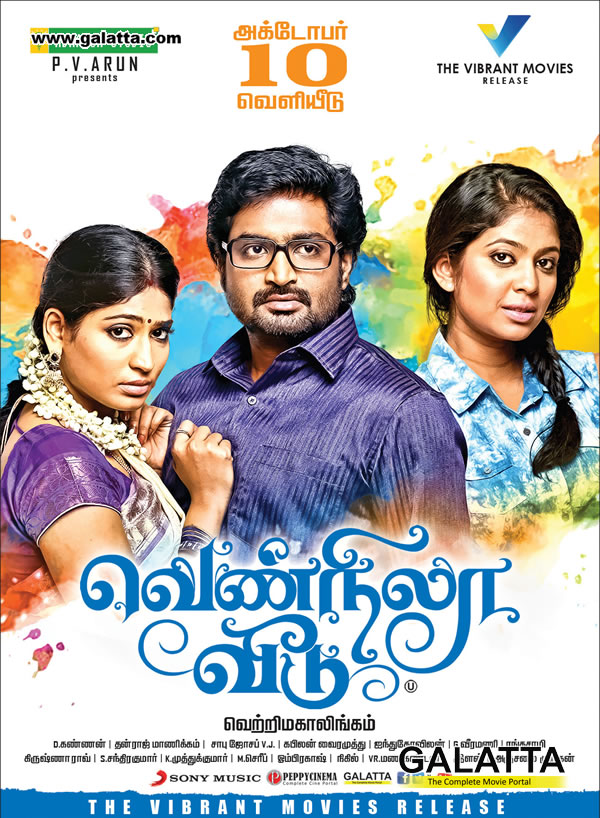 About

Vennila Veedu
Produced by P.V.Arun, Vennila Veedu is a family drama directed by Vetri Mahalingam.
Vennila Veedu Movie review
Produced by P.V.Arun, Vennila Veedu is a family drama directed by Vetri Mahalingam. This film stars Mirchi Senthil and Vijayalakshmi in lead roles.
Vennila Veedu is centered on a small middle class family comprising of Karthik (Mirchi Senthil), Thenmozhi (Vijayalakshmi) and their daughter Vennila. Karthik is a very loving yet naughty husband and Thenmozhi is a perfect housewife who also tutors poor children for free. They might not be very wealthy but they sure are very happy. Everyone in their apartment has high regards for Thenmozhi and her neighbor Illavarasi wants to get acquainted with her as she is hearing so many good things about her. Thenmozhi initially keeps away from Illavarasi because she comes off as a snob but things change when Illavarasi helps Thenmozhi at a very desperate moment. From then on these two become inseparable, they cook together, go to temples and they learn so much from each other.
One day Karthik asks Thenmozhi to come along with him to his boss's daughter's wedding and she decides to borrow jewels from Illavarasi because she doesn't have any. Ilavarasi happily lets her borrow her jewels which are worth a fortune. After making quite an impression at the wedding, Karthik and Ilavarasi return home, on their way back, a robber snatches her jewels away and runs off. Karthik tries to catch him but fails miserably, not knowing what to do the couple break down. Do they get their jewels back? What will Ilavarasi do when they tell her? Will this be the end of their friendship? Does money mean everything? Watch Vennila Veedu to find out!
Vetri Mahalingam builds up the bond between Karthik and Thenmozhi in a very heartwarming manner. He has packaged the film in such a manner that the message enclosed does not turn out to be predictable. The second half is very gripping especially the climax. Mirchi Senthil and Vijayalakshmi's chemistry is really good and both of them have carried off their roles very well.
Overall Vennila Veedu is a gripping family drama with a powerful message to tell.