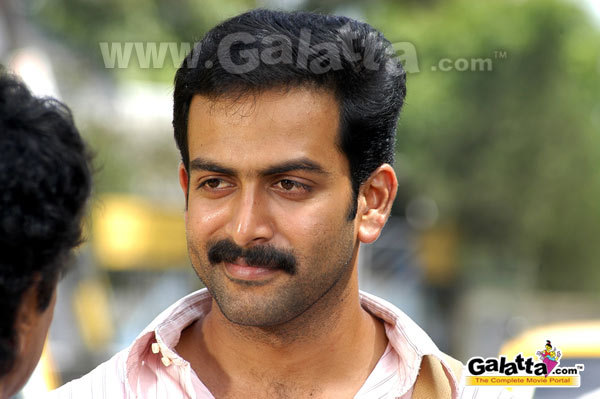 Vellitherai Movie review
Vellitherai is a shot at the world of cinema, its flaky popularity and elusive stardom.
Kanniah (Prakashraj) is a spirited actor with a will to make it big in movies. Though he is beyond normal feelings like friendship, care, loyalty and sharing, Kanniah is absolutely good at faking them. His ambition and focus are so strong that he is ready to do anything to achieve success and stardom. His brash and harsh ways irritate and annoy everyone around him. In short, rustic, this uncouth and an absolute bore is not company one wants to keep. Saravanan (Prithviraj) is a budding director, stuck in his apprenticeship phase. He too, wants to make it big in cinema. His ambition is backed by an innate ability and a natural inclination to work hard. As fledgling members of the film community, both share a dingy space. Saravanan endures Kanniah's self-prasie and trumpeting, patiently brushing aside his insistence to be cast as a hero. Saravanan wants to achieve success at least for the sake of Mythili (Gopika), his long-term lover and a sensible actress.
One fine day, Saravanan goes to Hyderabad to attend a story-session. Kanniah casually bumps into producer Balaji (Sarathbabu) and puts forward another application for a hero's role. There, a dicey plan takes shape. When Saravanan returns from Hyderabad, much to everyone's surprise, Kanniah is already a few steps ahead in the slippery path of stardom. He renames himself Dilip Kanth with a luring Thalapathy sound and trendy hero scruples.
Though wonder-struck by Kanniah's sudden stroke of luck, Saravanan goes about his old routine. Saravanan's cravings remain still unanswered, often pushing him to the brink. Kanniah ascends stardom, riding high on his own success. At a certain point, Saravanan gives up his hopes, shuts shop and goes into a tailspin of depression. He takes the help of his friend Mustafa and gets a day job as cab-driver to make a living and to support his young, lovable wife Mythili, who has abandoned her cunning brother's (Sampathraj) support and has come under Saravanan's care.
When favoyrable opportunities arise, Saravanan approaches production companies again, who prefer the reigning Dilip Kanth as their hero. Upon approaching the Superstar, Saravanan gets utterly disappointed when the 'close friend' snubs him in public and the star-secretary drives him out of his plush office. His situation becomes worse when Mythili too deserts him. With a raging desire to achieve success, Saravanan moves ahead, accepts Kanniah's crafty manipulations and embarks on his dream-project. Eventually, he too finds a way to end the truce - this time, in his favour.
Vellitherai is a touching chronicle that presents the despicable side of star world - a world dominated by over-ambitious stars who live in a whimsical set-up, self-absorbed and callous to the core.
Prakashraj's role is the quintessence of this glaring truth. His malicious ways go on to prove the fact that Star Quality is a mysterious thing; most often, it has less to do with the actor's standing in the moviedom; even the way stars respond to their spectacular success is hazardous. The great actor establishes the true nature of the role with his astounding acting prowess being selfish, vain and mean. Prakashraj seems to have grown manifold and supreme through this one character. Hats off to this difficult role of a despicable person!
Prithviraj is the emotional explosive in Vellitherai. He goes through a diverse array of feelings - ambition, loss, mistrust, pain, love and finally triumph - ably capturing them in his fair face and with the blazing expression etched on those pair of gleaming eyes. Well done, Sir!
Gopika is a valuable addition to this film. She has played her role with a softness and wariness, not overshadowing Prithviraj's role with the strong emotions portrayed. Laksh