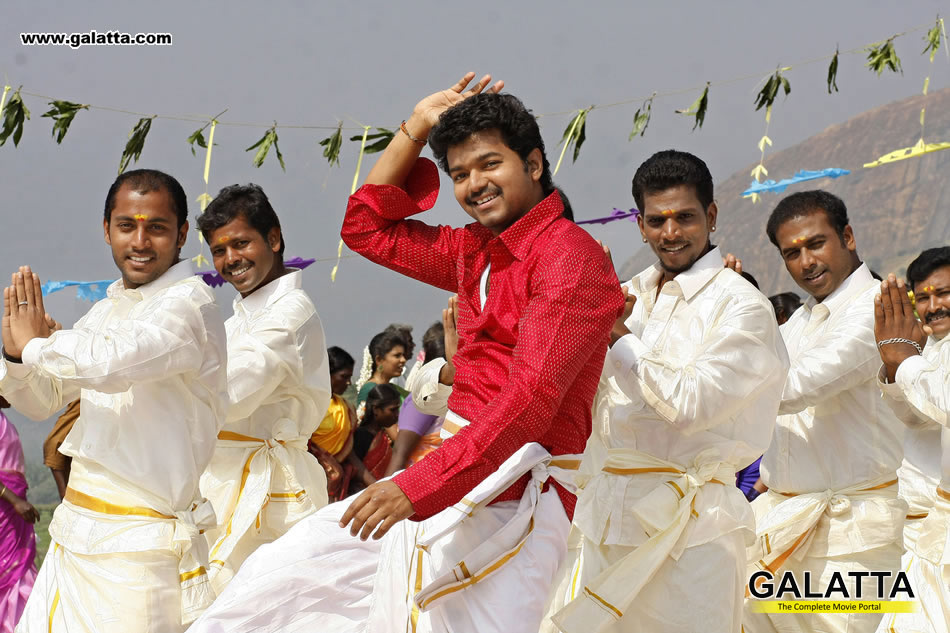 About

Velayudham
Situations make an ordinary common man to fight against corruption in the society but this time he uses his own style.
Velayudham Movie review
And the wait is over! With Velayudham Ilayathalapathy Vijay is back to his favourite forte; commercial entertainer. The film, directed by Jayam Raja, also stars Hansika Motwani, Genelia, Saranya Mohan, Santhanam, M.S. Bhaskar, Sathyan, Pandirajan and Sayaji Shinde in pivotal roles. Reportedly Velayudham is made with a whopping budget of Rs. 48 crores, which makes it Vijay's costliest film till date.
The film is produced by Aascar Ravichandran and Vijay Anthony is the music composer. Earlier the music launch of Vijay's much awaited Velayudham was a grand function in Madurai on Sunday. More than one lakh Vijay fans participated in the event. For Vijay's intro song the crew have spent nearly two crores.So here we bring you an exclusive review of this commercial entertainer.
THE PLOT
In order to create fear and eradicate rowdyism in Chennai, journalist Bharathi (Genelia) creates a fictional character Velayudham. She popularizes the character and claims that he is the protector of common man; the news starts to spread like a wildfire.
On the other hand there is a real Velayudham (Vijay), the humble milk vendor who leaves in a small village near Pavunoor. Velayudham lives for his beautiful younger sister Kaveri (Saranya Mohan) and a cute cousin Vaidehi (Hansika). Together they always create a havoc in the village. As his sister's marriage is fixed, Velayudham goes to Chennai to retrieve money from a chit fund and the real fun begins here.....
Performance
It's Vijay all over again; he carries the entire film on his shoulder single handedly. He is a typical super hero here; he bash the goons, mouth punch dialogues, dances well and loves his sister more than anything. His antics with Speedu (Santhanam) is rib-tickling. The brother-sister love is another major highlight of the film. Saranya Mohan as Vijay's sister is adorable but doesn't have much scenes to perform so is Genelia and Hansika. The rest of the starcast including M.S. Bhaskar, Sathyan, Pandirajan and Sayaji Shinde has done their part well.
The Techniques
Despite all denials from the Jayam Raja and his team, the movie is indeed an adaptation of super hit Telugu film Azad, which has Nagarjuna, Soundarya and Shilpa Shetty in lead roles. Vijay's hilarious comedy act in the first half is a treat to watch but the pace drops considerably in the second half. Vijay Anthony's racy tunes are perfect for the film with the songs 'Molaichu Moonu' and 'Rathathin Rathame' standing out. Camera works by Priyan and Vijayan's editing fits the bill.
The Verdict
An old wine in a new bottle; still it manages to keep you entertained throughout. Indeed a treat for Vijay fans!