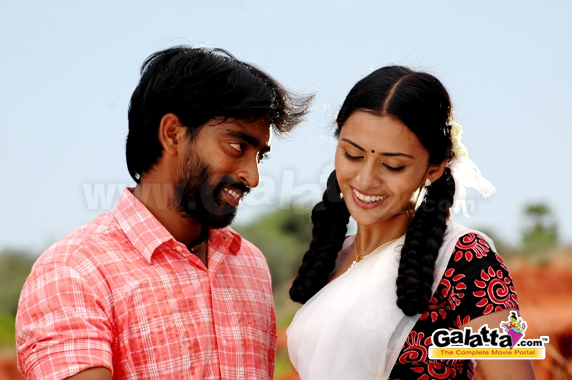 Veeramum Eeramum Movie review
Family feuds will never die down in Tamil cinema. Veeramum Eeramum, with its fair share of family drama and action, is the story of a family war sparked off by a love affair, followed by deceit. Along with the family property, the feud is passed on from one generation to the next.
Shankaran [Saravanan] and Semmari Pandi are always at loggerheads. Whenever they meet, sparks fly and there's a lot of blood shed. The fued between their families began two generations ago; since then, there has been no one to put a cork on their mutual hatred. A lady in Shankaran's family had loved and married a man in Semmari's family, against her own family's wishes. The groom's family then managed to transfer a formidable part of the bride's family property to his own name. These two incidents initiated what became a family war that lasted three generations.
The enmity between the two camps is not new to the people of that town [Tuticorin]. But by now, they are fed up with the violence and hence seek the help of the Commissioner of Police, Veerasangili [Deepan Chakravarthy]. He summons representatives from both camps with the idea of talking things out and setting things right. Semmari's man will hear nothing of it and the meeting ends when he stabs the emissary from Shankaran's side. More violence. More trouble. The situation seems beyond hope when a single incident enlightens Shankaran and softens his hardened heart.
Being a rich and affluent man in town, Shankaran distributes textbooks to school children from time to time. On one such occasion, one of the students asks him for a knife rather than books. When asked why he wants a knife, the child says the knife would be more useful, because he could use it to kill the man who murdered his father. Hearing these words from a young child fills Shankaran with guilt.
Their town is so torn apart by violence that children have lost their innocence. Stricken by grief that he and his family have played a part in this crime, Shankaran agrees to make peace with his past - to resolve his differences with Semmari's family amicably. Being the vile villain that he is, Semmari is in no way willing to let go, to forgive or forget. He is now even more keen to destroy Shankaran. Does he succeed or does Shankaran manage to make Semmari sees the pointlessness of their enmity? That's what the rest of the plot is all about.
Sanjayram, besides playing several roles behind the screens for this movie, has also acted in the movie, a minor character that he manages to carry off well. Leo's camera complements the direction and the script. Yugendran, who is debuting as music director, could have done better. The tunes are merely passable. Jaguar Thangam has done his best to make the action as realistic and vile as possible and has succeeded to a great degree.