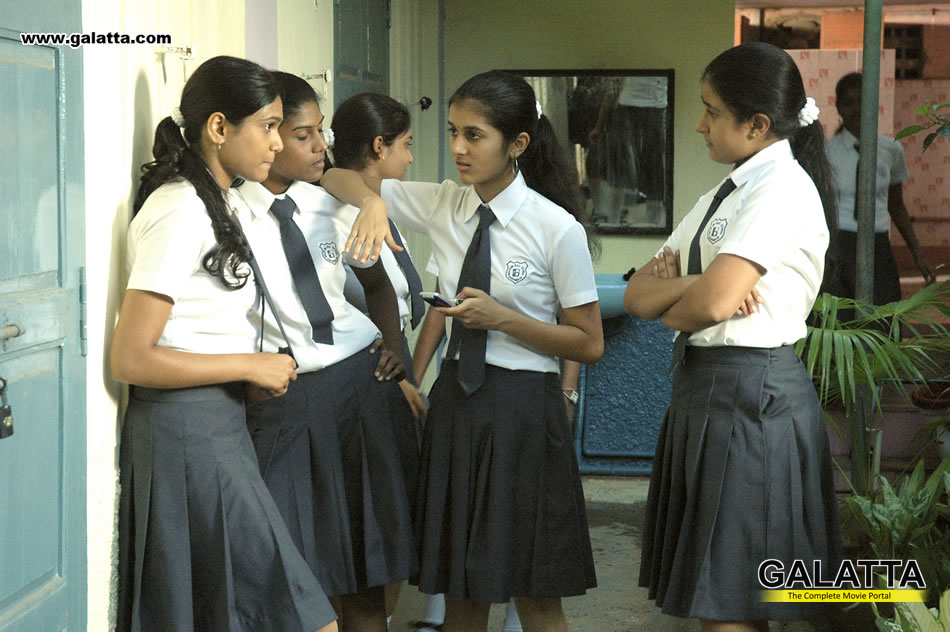 About

Vazhakku Enn 18/9
A girl falls into trouble when her boyfriend films her private moments on his mobile phone without her knowledge.
Vazhakku Enn 18/9 Movie review
After the simple Kaadhal and the memorable Kallori, director Balaji Sakthivel is back with his next venture Vazhakku Enn 18/9. Balaji Sakthivel is noted not only for his realistic style of film making, but also for his observation skills and ability to transform these observations into a neat celluloid version that attracts viewers. Surprisingly, Vazhakku Enn 18/9 is an out-and-out love story. The film deals with how the concept of love has changed today, beginning with the so-called 'boyfriend-girlfriend' culture. The film is produced jointly by Thirupathi Brothers and UTV Motions Pictures; and has newcomers Sri, Mithu Murali and Urmila Mahanta in the lead roles.

Knowing what Balaji Sakthivel is capable of, we eagerly anticipate this film!

What is it about?

Looks like director Balaji Sakthivel has taken inspiration from many news articles to create a solid plot for Vazhakku Enn 18/9. The films opens with an ambulance rushing towards a hospital.... the victim is in serious condition and her mother suspects Velu. From there the police investigation begins...

Flashback... Due to circumstances Velu (Sri) is forced to work in a chips (and snacks) making factory in the rural areas of North India. When his parents die in an accident, the owner of the factory hides it from Velu and when he overhears this, he decides to leave his job forever. Obviously Velu lands in Chennai and ends up working in a roadside fast food. One day Velu ends up in a small conflict with the innocent Jothi (Urmila Mahanta) and her rude mother. So who is Jothi... A simple teenage girl hailing from a poor class family. She works as a maid in a nearby posh flats. In the same flat, Dinesh (Mithun Murali), son of a rich industrialist, sets his eyes on Aarthi (Manisha Yadav) and interestingly Jothi works in Aarthi's house.

On a fine day someone throws acid on Jothi's face while she is in Arthi's house... So who is behind it, and wat is Dinesh's role in this? Watch out in Vazhakku Enn 18/9!

Performance and Techniques

It is the script which triumphs over everything and the real hero is the screenplay. Director Balaji Sakthivel has once again proved that it is not necessary to have big star's dates to make a good film. The director has used the first half to narrate the background information of all the characters and the story progresses in the second half. Unlike the regular perception that Vazhakku Enn... is an intense rural drama, the film is an intense love story which is pure and simple. Balaji Sakthivel's screenplay is well supported by S. D. Vijay Milton's camera works. He has used a Canon EOS 7D digital camera for the filming of this flick. Another major highlight of the flick is the soundtrack composed by noted guitarist R. Prasanna. Gopi Krishna's editing could have been better. On the flip side, the second half could have been tweaked a bit to increase the pace of the film. Awards are for sure, but now it would be interesting to see how audience welcome it!

Perfect casting! Sri, who played the lead role in TV serial Kana Kaanum Kaalangal, has done an excellent job as Velu. Malayalam child star Mithun Murali is equally good but his dubbing could have been better. Urmila Mahanta is innocent and naive; Manisha Yadav is perfect for the role. The rest of the star cast Muthuraman, Chinnasamy, Senthil, Rani, Rithika, Goutham, Vidhya Eeshwar and Anjali have done their roles very well.

A very well made realistic drama! Kudos to Balaji Sakthivel and team!