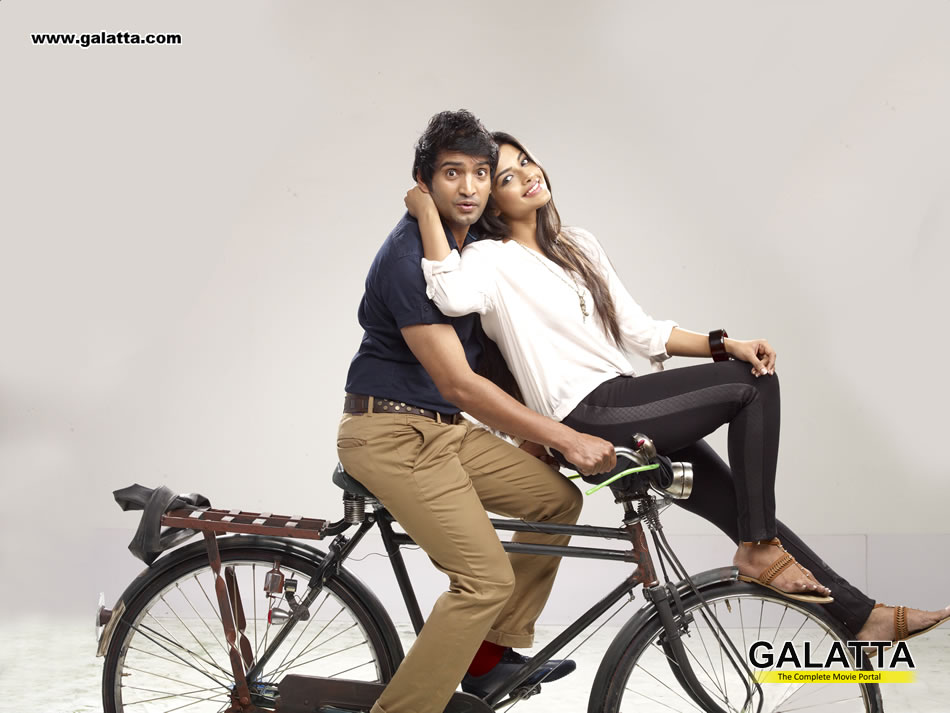 Vallavanukku Pullum Aayyutham Movie review
Coming from Handmade Films Productions and PVP Cinemas, Vallavanukku Pullum Aayyutham - a remake of the super hit Telugu movie Maryada Ramanna directed by SS Rajamouli, marks Comedy Superstar Santhanam's maiden venture as a solo hero and actor Srinath's debut as a director.
The movie opens to the beautiful village of Aravankadu, but the scene immediately turns gruesome as two people, wanting to settle a family feud, kill each other. One of them's brother swears revenge and wants to wipe out the entire family (wife and son) of the man who killed his brother. The man who killed his brother also happens to be his brother-in-law, but that doesn't makes him even think twice and he also makes his 2 sons promise to exact the revenge how many ever years it may take. The widowed lady escapes to Chennai with her son. The son Shakthi (Santhanam) grows up to be a water can delivery guy delivers cans using his cycle. Shakthi loses his job when the company owner asks him to get a bigger vehicle to carry the water cans. Not having enough money to get a new vehicle, a dejected Shakthi is left bereft. It is at this jucture that he comes to know through a person that there is a small piece of land in his parents' name in the village of Aravankadu. Despite the warnings of the person not to go to the village, he decides to go there and sell off the land and start a business with the money he gets.
While going by train, Shakthi comes across Vanathi (Ashna) who happens to be from a very affluent family and is also going to Aravankadu only. With danger for his life lying in wait at the village, an unwitting Santhanam enters and meets the village headman, who also offers to help him. However, as fate would have it, the village headman is the dead guy's brother guy who has sworn to take Shakthi's life in revenge. The only solace is that he doesn't know Shakthi is his enemy as yet... What will happen to Shakthi when he comes to know? With literally no means of saving himself, will Shakthi escape with his life? What is the one thing that might keep Shakthi safe for a little while? What will happen when even the one thing that is keeping Shakthi safe is about to end? Watch Vallavanukku Pullum Aayyutham on the big screens to know.
Director Srinath has chosen a proven script and stuck as much as possible to the original. The way the movie has been translated on screen is good. Santhanam has been the backbone for a number of movies turning hits with his comedy so far. This time around, he carries off the whole movie on his shoulders. His emoting and dancing have gone on to a different level altogether. Ashna Zaveri is very impressive as Vanathi and has delivered a very good performance. Nagineedu and Mirchi Senthil have also played very good roles and have performed very well. The comedy sequences with Rajakumaran and Siddharth Vipin keep the viewers in splits. Santhanam's witty oneliners and wisecracks rock, as always. Ravi Prakash impresses as Dharma. Siddharth Vipin's music is good and the 'Takkaru Takkaru' song is a perfect opening song for the hero. TR's voice for the cycle is a good touch and the cameos by VTV Ganesh and Powerstar Dr. Srinivasan make for some good viewing.
Vallavanukku Pullum Aayyutham is the perfect getaway for the whole family from this scorching summer. Don't miss it.