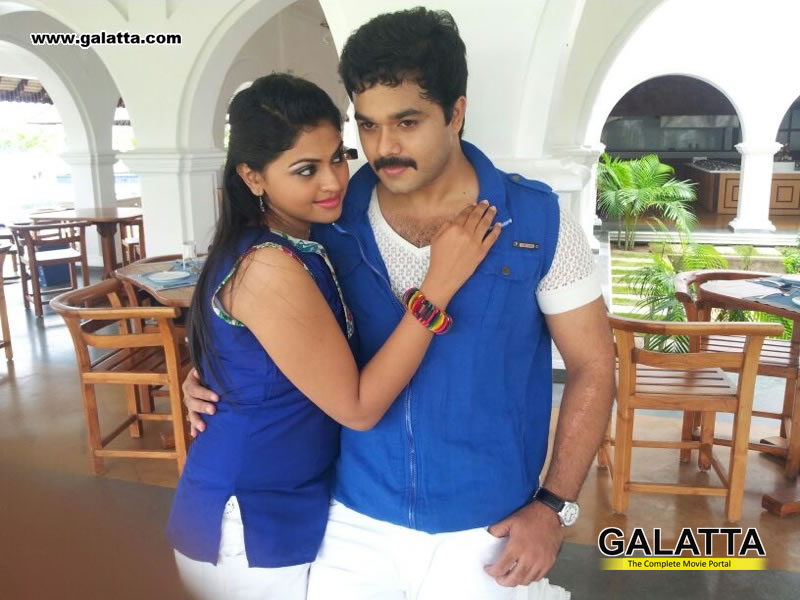 Uyirukku Uyiraaga Movie review
Vijaya Manojkumar's Uyirukku Uyiraga is produced by Kovai Thambi under his banner Motherland Productions and released by Vendhar movies. This film stars Sanjeev, Saran Sharma, Nandhana, Preethi Das, Mynaa Sathish and Prabhu in pivotal roles.
The film starts of with elderly parents Rangaswamy (Prabhu) and Lakshmi who publish a matrimony advertisement for their son Karthik (Saran Sharma). The moment Karthik wakes up he finds a long queue of girls waiting right outside his house to be interviewed by his father. He gets frustrated and storms off to his friend Sathish's (Sathish) house. A few more minutes into the movie we learn that Kathik hates the very mention of love and relationships as a result of temporarily unveiled bitter experiences of the past. Meanwhile the matrimonial advertisement published by Karthik's dad goes viral and it becomes the talk of the town. On the very same day Pinky (Preethi Das) lands up at Karthik's house pretending to be a reporter and starts to interview his parents. A short while after we learn that Pinky is a MBBS student at SRM University and she pretends to be a reporter only because of her interest in Karthik. She slowly wins over his parents and sets off to charm her love interest Karthik. The more she pursues him the more he draws back.When she tries to impress him by playing his guitar he gets frustrated and slaps her. Things take a turn for the worse when Karthik lands himself in trouble by fighting with a friend for breaking his guitar. He lands up in jail and his worried parents go in search of help to bail out their son. At that very moment Pinky shows up in a fancy car. She whispers something to the deputy comissioner and instantly bails him out of jail. Who is Pinky? How is she so influential? Why does Karthik cringe at the very mention of love? Why is the guitar so sacred to him? Watch Uyirukku Uyiraga to find out.
Director Vijaya Manojkumar has tried to put us at the edge of our seats by building the film on a lot of mysterious elements throughout the first half. But these elements stand alone and hence they do not work out as well as we expected. The mystery does not create curiosity instead it makes us wonder why he chose such over used cliches. The Hindi accent of Pinky's grandfather seems very artificial and so do the visuals of a Holi song that follows. The actors have good chemistry but they could have done better if they had emoted more. The cinematography adds a lot of colours to the visuals but falls flat in places.
Overall Uyirukku Uyirga is a film from the heart of director Vijaya Manojkumar but it would work better with a little more attention to details and better characterizations.