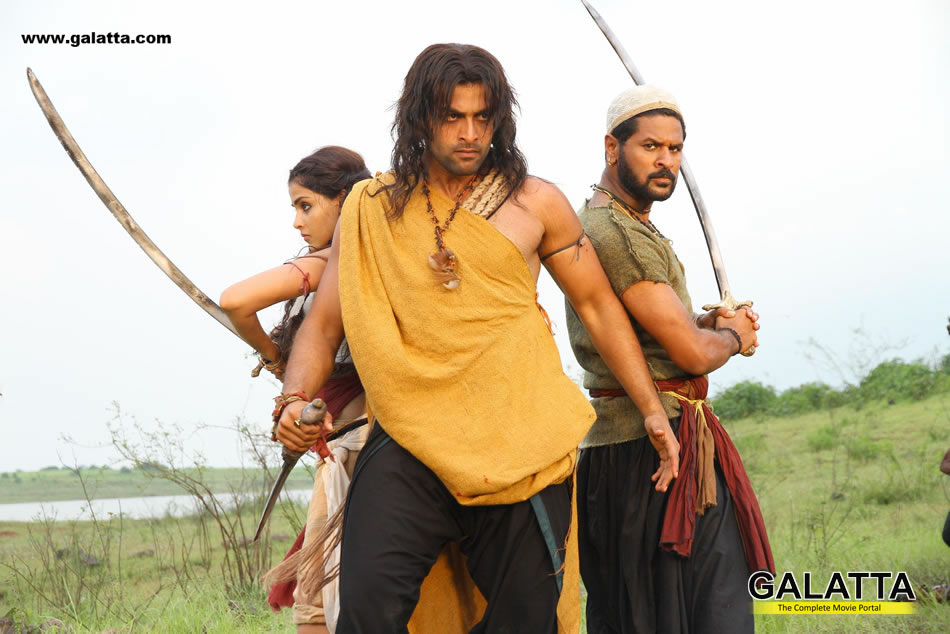 Urumi Movie review
Before beginning the review of Santosh Sivan's much awaited Urumi, we would like to say the verdict first; What a visual treat? Pure brilliance from the ace cameraman.

The film has already done wonders at the Malayalam box office and has also screened at many international film festivals. Urumi has a bunch of talented artistes including Prithviraj, Genelia, Prabhu Deva, Nithya Menon, Vidya Balan, Arya and Tabu. Interestingly it is made with a whopping budget of Rs. 23 crore, making it the second most expensive Malayalam film ever made after Pazhassi Raja.

So what is the film all about? Urumi narrates the story of a young boy who wanted to kill Portugese sailor Vasco Da Gama.

THE PLOT

The film starts in the present day. Young Krishna Das (Prithviraj) and his friend (Prabhu Deva) are offered a huge amount by a big corporate for Krishna's ancestral property in Kerala. While he arrives in Kerala to sign the papers, Krishna Das is told some truths about the land and his ancestors in a flashback mode.

In the flashback, we see a brave warrior (Arya) who wants to kill Vasco Da Gama, the Viceroy of the Portuguese empire in India. But the warrior is brutally killed by the invaders and his son Chirakkal Kelu Naynar (Prithviraj) sets out to take revenge with a golden Urumi (flexible sword) that he makes with the ornaments of dead women and children who were burnt alive in a ship under the instructions from Vasco Da Gama.

Chirakkal Kelu Naynar is supported by his childhood Muslim buddy Vavvali (Prabhu Deva). In the journey to take revenge, Kelu meets warrior princess Ayesha (Genelia), who is also fighting against the invaders. Will they be able to kill Vasco Da Gama? This forms the rest of the film.

THE PERFOMANCE

Prithviraj as Kelu is outstanding. Though it is a difficult role, he has come out with flying colours, especially in the climax. Prabhu Deva does comedy and romance with ease and the chat song with Nithya Menen is superb. Genelia has shed her bubbly image to portray a warrior princess (nary a smile!) and her Kalaripayattu action scenes are thrilling. As usual Vidya Balan does her role with ease. Alexx ONell as Estêvão da Gama is perfect, Robin Pratt as Vasco Da Gama is brilliant, Amole Gupte fits the bill perfectly as Chirakkal Thampuran.

THE TECHNIQUES

The main plus point of the movie is that though it is made as a period drama, Santosh Sivan has avoided too many talks and bombastic dialogues about freedom struggle and heroism. It gives a new insight into how ancient heroes thought during crises. On the technical side, the main highlight is the fabulous, intricately crafted script by Shankar Ramakrishnan, beautifully supported by Santhosh Sivan's brilliant cinematography. Music by Deepak Dev and Sreekar Prasad's editing without any gimmicks are impressive. Kudos to August Cinemas for their wonderful effort and producer Kalaipuli S. Thanu needs a special mention for releasing the film in Tamil.

On the backseat, the second half of the film could have tweaked a little to reduce the running time of the film. The background heavily reminds us of Gladiator and Brave Heart. The film addresses too many issues like history, environment, political imbalance, land mafia, lover etc, which at times can be confusing.

In a particular scene, Vavvali tells Kelu that he should allow history to portray Vasco Da Gama in good light, but Kelu fails and rest is history; only masterpiece like Urumi can bring out the real insight of our ancient heroes.

Pure visual brilliance! A fairy tale epic which has a soul and technical brilliance! Go for it.